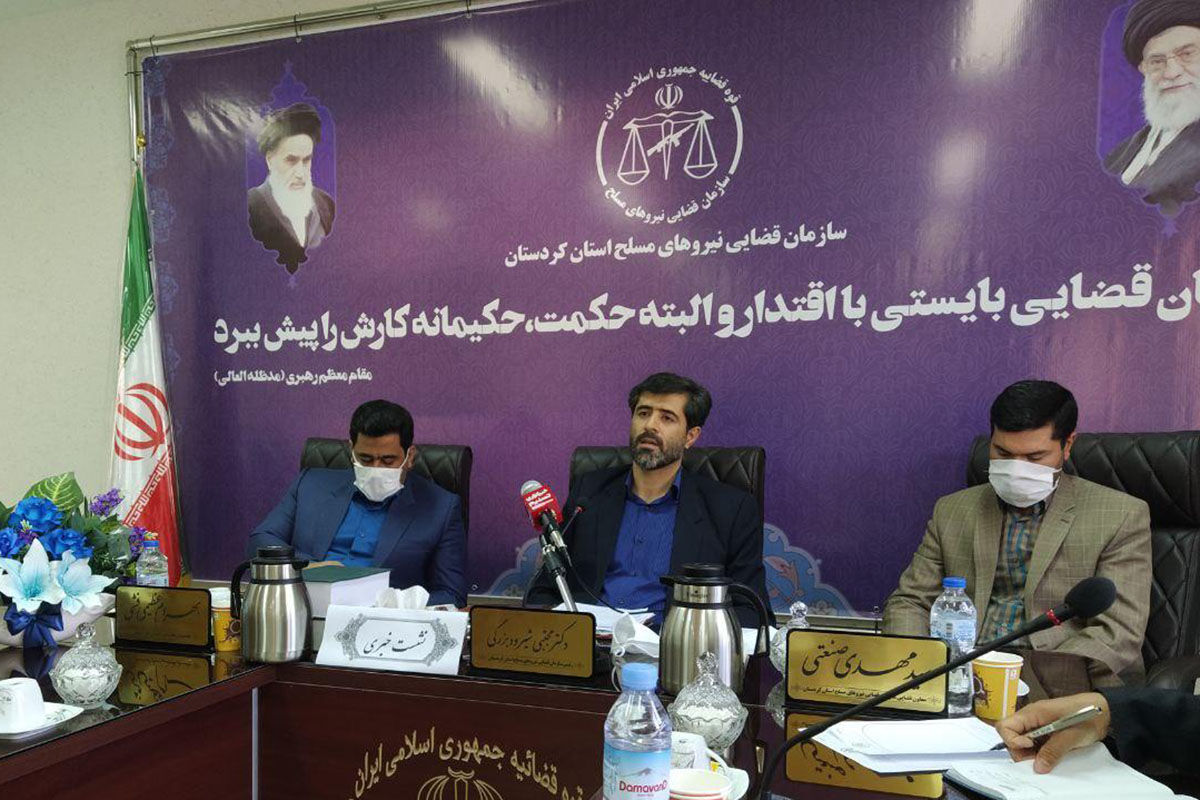 Highly sensitive and exclusive documents received by Avatoday showed Mojtaba Shirudi Bozorgi, the head of Sanandaj's branch of Judiciary Organization of the Armed Forces, has formed a mafia, seizing homes and lands and defeating opponents by recording their banned sexual relationships.
The documents include audio and video files, classified letters, and photos which Avatoday is unable to publish due to moral and security reasons.
The 40-year- old Shirudi, originally from Shirud in Iran's northern province of Mazandaran, was an employee at the Judiciary Organization of the Armed Forces of the Islamic Republic of Iran, Khuzestan province in 2005.
Shirudi, through the influence of his brother-in-law, Ahmad Gholami, who was a deputy at the main headquarter of the organization in Tehran, was promoted to a military attorney in Sanandaj after he played a significant role in suppressing and arresting protesters in Iran in the 2009 presidential election demonstrations.
He has also been accused of holding a fake master's degree from Islamic Azad University of Tehran.
Shirudi, who later got promoted to the head of the organization, has been blackmailing his opponents by sending assigned female agents to their office and taping their sexual relationships.
Azizollah Nazar, the former head of the organization, was dismissed from his post after a compromising video of him was published.
Several former prosecutors of Kurdistan province were dismissed from their position for similar sexual exposures.  Akbar Johari, the former prosecutor of Sanandaj, was also dismissed when a sexual relationship of him went public.  Johari was later forced to marry the woman and resign from his post.
The document has also revealed that Shirudi, in cooperation with the intelligence agency of Sanandaj known as Etelaat, has arrested tens of civil and political activists. The activists, in exchange for paying 40 to 100 million toman ($2,000 to $5,000), were found not guilty.
Another document revealed that several political prisoners were executed and buried in mass graves in surrounding villages of Sanandaj.
Eliminating small groups of smugglers who were not working in favor of Iranian Revolutionary Guard Corps (IRGC) was another project that began under Shirudi's supervision. This happened while bigger groups of smugglers who worked for IRGC went free.
Shirudi was briefly arrested in 2019 in Tehran while carrying a load of electronics. The load was smuggled from Iraq to Sanandaj and then to Tehran. After an hour, when the identity of Shirudi was revealed, he was set free.
Hundreds of acres of residential, agricultural, and industrial land, and hundreds of houses were seized by Shirudi in cooperation with IRGC and Etelaat commanders.
Shirudi is also accused of being one of the main suppliers of illegal drugs in Kurdistan.
Part of the documents showed that Shirudi had engaged in sexual abuses with at least two of his own employees, one male and one female.
Shirudi Bozorgi currently remains the head of Sanandaj's branch of the Judiciary Organization of the Armed Forces of the Islamic Republic of Iran.