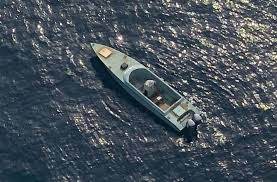 The Arab Coalition destroyed a bomb-laden boat belonging to Iran-backed Houthi militia which was targeting maritime routes south of the Red Sea, the coalition spokesman Turki al-Maliki said on Sunday.
According to a statement carried by Saudi Press Agency SPA, the coalition's spokesman said the explosive-laden boat posed a threat to international maritime activities and "international navigation."
Al-Maliki added that the remotely controlled explosive-laden boat was launched from the Yemeni port city of al-Hodeidah.
"Coalition Navy Forces detected this evening (Sunday) an attempt by the terrorist Houthi militia to carry out a hostile, terrorist act in the Southern Red Sea using a bomb-laden Unmanned Surface Vehicle (USV) launched from Hodeidah Governorate."
Maliki announced that the boat was successfully destroyed.
"The Joint Forces Command of the Coalition will continue to implement all rigorous, deterrent measures against this terrorist militia, and neutralize, destroy such capabilities that pose a threat to regional and international security," the statement said.