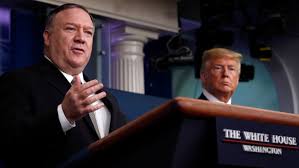 U.S. President Donald Trump (R) listens as Secretary of State Mike Pompeo speaks about the coronavirus in the James Brady Press Briefing Room of the White House in Washington, April 8, 2020. /AP
US Secretary of State Mike Pompeo said on Tuesday that Iran is a safe haven for top figures of al-Qaida extremists.
"Al-Qaida has a new home base. It is the Islamic Republic of Iran," Pompeo said during a speech at the National Press Club in Washington.
"Tehran has allowed al-Qaida to fundraise, to freely communicate with al-Qaida members around the world, and to perform many other functions that were previously directed from Afghanistan or Pakistan," he said. 
He described Iran as the terrorist group's new "operational headquarters."
"As a result of this assistance, al-Qaida has centralized its leadership inside of Tehran," Pompeo said.
In a statement, Pompeo announced the designations of Iran-based al-Qaeda leaders Muhammad Abbatay (also known as Abd al-Rahman al-Maghrebi), and Sultan Yusuf Hasan al-'Arif as "Specially Designated Global Terrorists under Executive Order (E.O.) 13224." 
Under the same authority, he also announced the designations of Ismail Fuad Rasul Ahmed, Fuad Ahmad Nuri Ali al-Shakhan, and Niamat Hama Rahim Hama Sharif as leaders of the al-Qaida Kurdish Battalions (AQKB), an al-Qaida-linked group that operates on the border between Iran and Iraq. 
"As a result of these designations, U.S. persons are generally prohibited from engaging in any transactions with these individuals and their property and interests in property subject to U.S. jurisdiction are blocked.  In addition, it is a crime to knowingly provide, or attempt or conspire to provide, material support or resources to al-Qa'ida," the statement said.