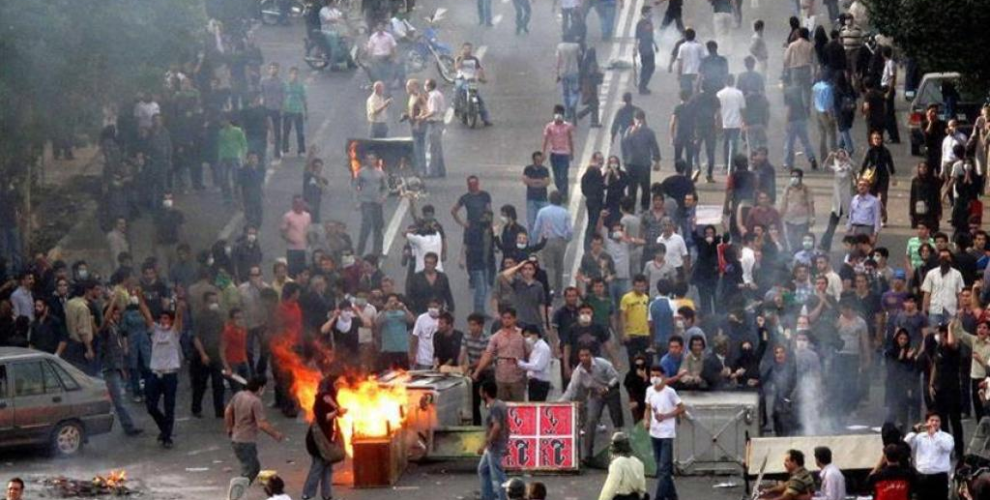 Iran killed at least 1500 protesters by direct fire during the November 2019 uprising
In a leaked audio file, a former Iranian Ministry of Intelligence Security Deputy reveals that the Islamic Republic's judiciary authorized "thugs" to systematically crack down on demonstrators and beat detained protesters in 2009.
Ali Hashemi, who was also the head of the Expediency Discernment Council Security Committee in 2009, explains how mobs were recruited, trained, and organized by the Iranian Revolutionary Guard Corp (IRGC) to clamp down on protests, and used to beat and torture protesters in the Kahrizak detention center.
Hashemi refers to a statement made by the late IRGC commander Hossein Hamadani, who was killed in Syria, in which he says five thousand "thugs and hooligans" were identified and deployed to suppress the 2009 protests.
Hamadani is quoted as saying, "We need to utilize those with Qama (swords) and blades to train Mujahids."
As part of a social security promotion scheme in 2007, hundreds of criminal group leaders and their followers were rounded up and detained in Kahrizak prison. They were later trained and formed into three battalions like the Basij force, for the purpose of suppressing demonstrations under the name of defending the (Islamic Republic's) system, according to Hamadani.
Hashemi also mentions the use of 250 "thugs" in the crackdown of Iranian student protests in 1999 and the "Kuye Daneshgah Tragedy," and admits they threw students off buildings. The use of "villainous" individuals in later protests from 2009 onwards was based on that experience, he explains, adding that these "thugs" were organized to initiate disruptions in the later protests of 2017, 2018 and 2019.
Hashemi goes on to say how an account of what had occurred in Kahrizak by Hamadani's forces was given to him, and some other members of the Expediency Discernment Council Security Committee, by one of the detention centre's victims, Omid Rasouli.
Hashemi describes the Kahrizak incident as a "disaster" and an "atrocity," and adds, "If Omid Rasouli's account were released, people would have set the whole regime on fire."
From what is revealed in this leaked audiotape, it appears that assaults on prisoners by violent inmates in jails where there is no segregation by crime is part of the same approach of using criminals to suppress prisoners. The murder of Alireza Shir Mohammadi (or Shir Mohammad Ali), a political prisoner stabbed to death by two felons in the Greater Tehran Penitentiary two years ago, is one such example.
According to a report by Reuters, Iran killed at least 1500 protesters by direct fire during the November 2019 uprising. No one has claimed responsibility yet.