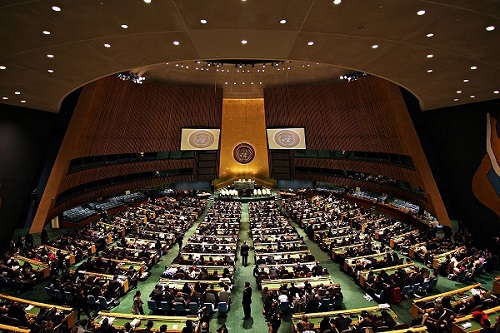 United Nation's General Assembly approved a new resolution on Monday, urging Islamic Republic of Iran to stop its "alarmingly high" use of violence and death penalty.
 "The resolution strongly urges Iran to eliminate discrimination against women in law and practice and express serious concern about ongoing serve limitations and restrictions on the right to freedom of thought, conscience, religion or belief," reads a report by The Times of Israel on the resolution.
Iran continues to maintain the highest per capita execution rate in the World.
"The resolution also calls on Iran to end widespread and serious restrictions including on freedom of assembly of political opponents, human rights defenders, labor leaders, environmentalists, academics, filmmakers, journalists, bloggers, social media users and others," re report added.
UN Watch, a Geneva-based human rights group, welcomed the Western-drafted UN resolution on Monday.
"We welcome today's increase in votes compared to last year in the UN General Assembly's adaptation of an important resolution," the watchdog's executive director Hillel Neuer said in a statement.
According to the statement Iranian minorities such as Kurds, Arabs, Baluchis, Turkes, and members of minority religions are facing torture, death penalty, abuse and restriction of their rights.