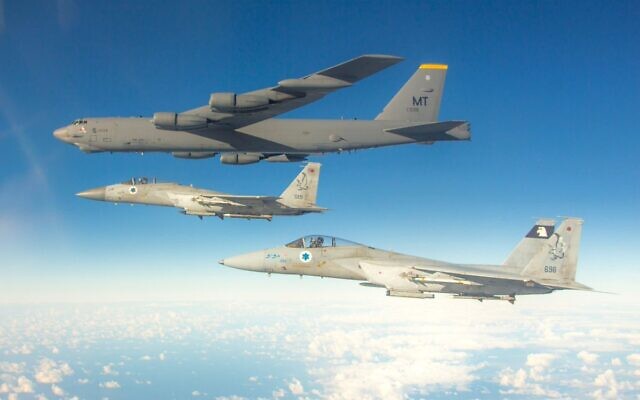 Israeli F-15 fighter jets escorted an American B-52 bomber as it made its way through Israeli airspace en route to the Persian Gulf on Monday.
The operation carried on in an apparent show of force to Iran amid increasing tensions between Iran and Israel.
"The flight was held as part of close cooperation with the US military, which represents a significant element in ensuring the security of the State of Israel's airspace and the Middle East," the Israel Defense Forces said in a statement according to The Times of Israel.
The US bomber, which is capable of carrying a nuclear weapon, flew from its base in the United Kingdom, through the Straits of Gibraltar, over the Mediterranean, through Israeli airspace and out over the Red Sea, before traveling back on roughly the same route to the United Kingdom.
The US military said the flight was meant to demonstrate the "US Air Force's ability to seamlessly operate across combatant commands." It said the B-52 was also accompanied by two F/A-18 Hornet fighter jets.
An attempt is underway to negotiate a new nuclear deal in Vienna to prevent the Islamic Republic from obtaining an atomic weapon in exchange for sanctions relief.