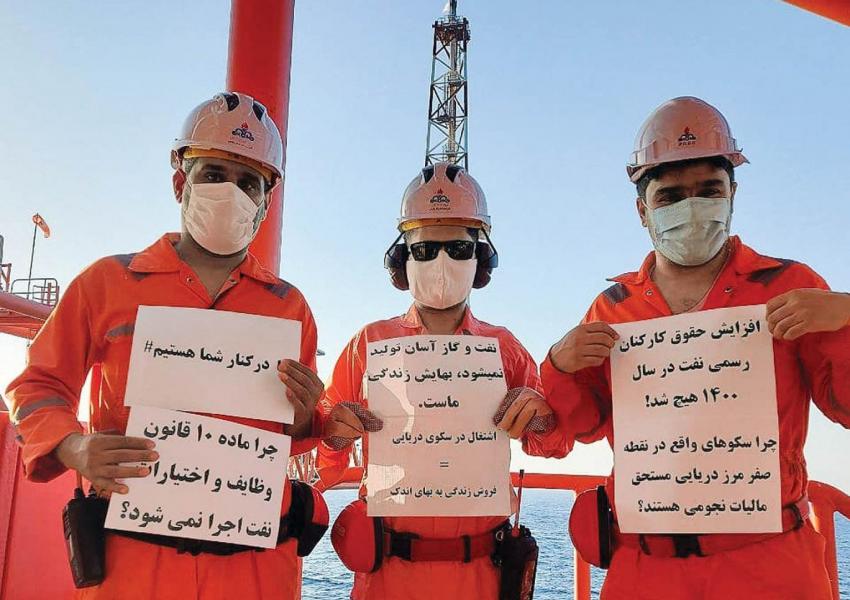 The strike by Iranian workers in the gas, oil, and petrochemical industries, which began on Saturday June 19, is still ongoing after 10 days.
Contract workers of over 60 oil and gas companies in several cities across Iran have joined the nationwide strike, protesting low and delayed wages, and poor working conditions.
Workers have been protesting at Abadan Refinery, Tehran Refinery, Isfahan Refinery, Gachsaran Petrochemicals, Kangan Petro Refining Company, and several companies in the South Pars Fieldn among others.
Workers of Dehloran NGL 3100 Gas Refinery, and truck drivers of Isfahan Oil Refinery, joined the strike on Monday.
The organizing committee of the protests issued a third statement on Monday, reiterating the workers' demands, which include a minimum monthly wage of 12 million tomans (roughly £400), timely payment of wages, and a working schedule of 20-day work and 10-day leave shift cycle.
Some of the workers' other demands include maintaining workplace health and safety standards, better living conditions in the dormitories, and recognizing their rights to rally and protest.
The protests in the oil sector have continued despite the dismissal of 700 striking workers at Tehran Refinery. A video published online showed some workers with termination papers in their hands, joining the nationwide protests.
A number of Iranian workers' organizations and unions, including the Syndicate of Workers of Haft Tappeh Cane Sugar Company, workers of Tehran's Vahed Bus Company, Teachers' Trade Union, and Retirees' Union, have backed the widespread workers' strike in fuel sector in Iran.
Several foreign trade unions have also issued statements in support of the protests in Iran's oil sector, among which include the IndustriALL Global Union and the General Syndicate for Oil and Gas Workers of Iraq.