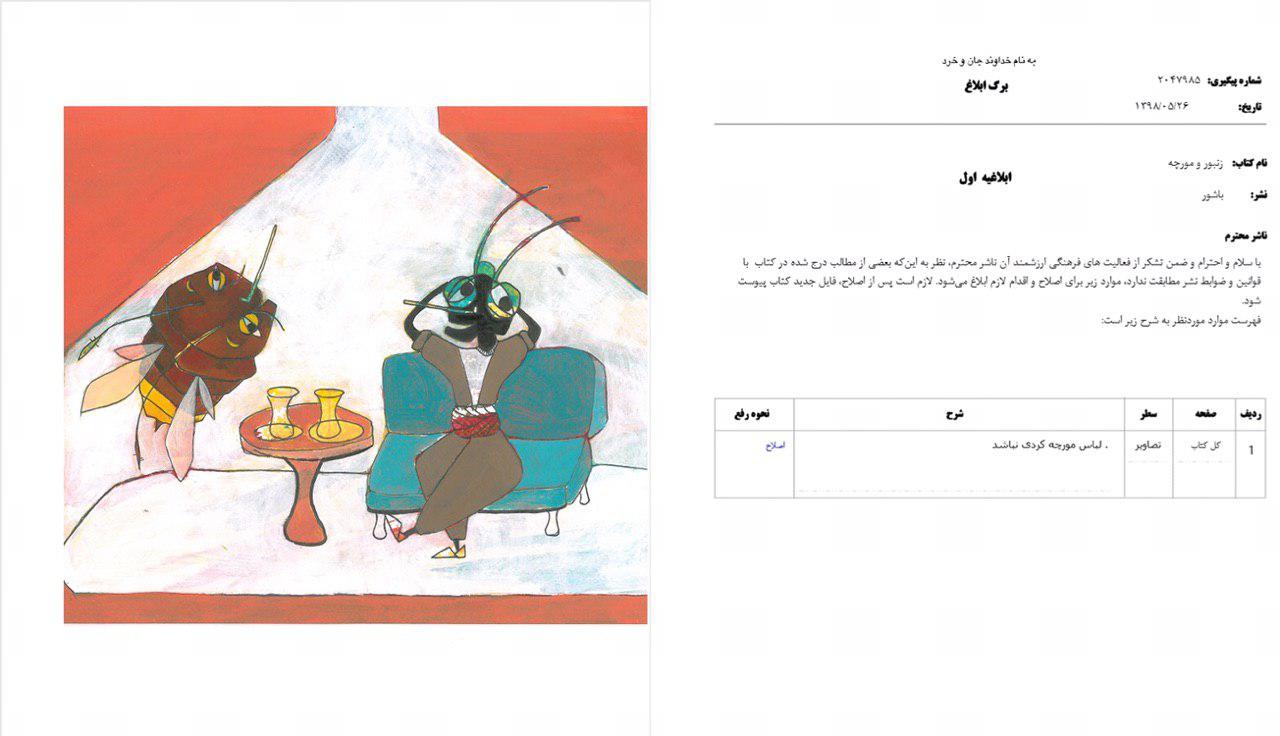 Iran's Ministry of Culture and Islamic Guidance in Ilam province banned a children's book and declared that, "the ants' cloth must not be a Kurdish one"
The institution, which knowns as Ershad said "This book under the title 'The Bee and the Ant' has breached publication rules and regulations, because the ant character in the book is portrayed in a Kurdish local-traditional outfit."
According to local reports, Bashur Publishing House has been informed via a letter that they are not allowed to publish "the Bee and the Ant, because some of the materials in the book do not comply with publication rules and regulations. The outfit of the Ant character must not be a Kurdish one."
In response to the order, the Bashur Publishing House has announced, "Discriminatory behaviors in the process of censorship against Kurdish books published by our publishing house have come to a point that we are even facing restrictions for children's character of a folklore tale. Is showing Kurdish outfit in a children's book violates Iran's publication rules and regulations?"
"If the answer is 'yes', isn't it the case of an anti-cultural move against Kurdish culture by an institute that its main duty is to promote culture and art?" the publishing house asked.
The manager of the Bashur Publishing House, Mohammad Moradi Nasari told reporters, "the censors by Ministry of Culture and Islamic Guidance do not take the costs and time spent for illustrating and editing of this book into consideration. They briefly ordered us to stop the publication because 'the outfit of the ant must not be a Kurdish one."
Nesari added, "Recently, we're dealing with a lot of problems for publishing Kurdish books, we have no idea who is in charge of the censorship of Kurdish books…we really don't have any idea."
"We want answers, we are not looking for troubles," he added.
Iran has a population of above 7 million Kurds who are not allowed to study in their own mother tongue.