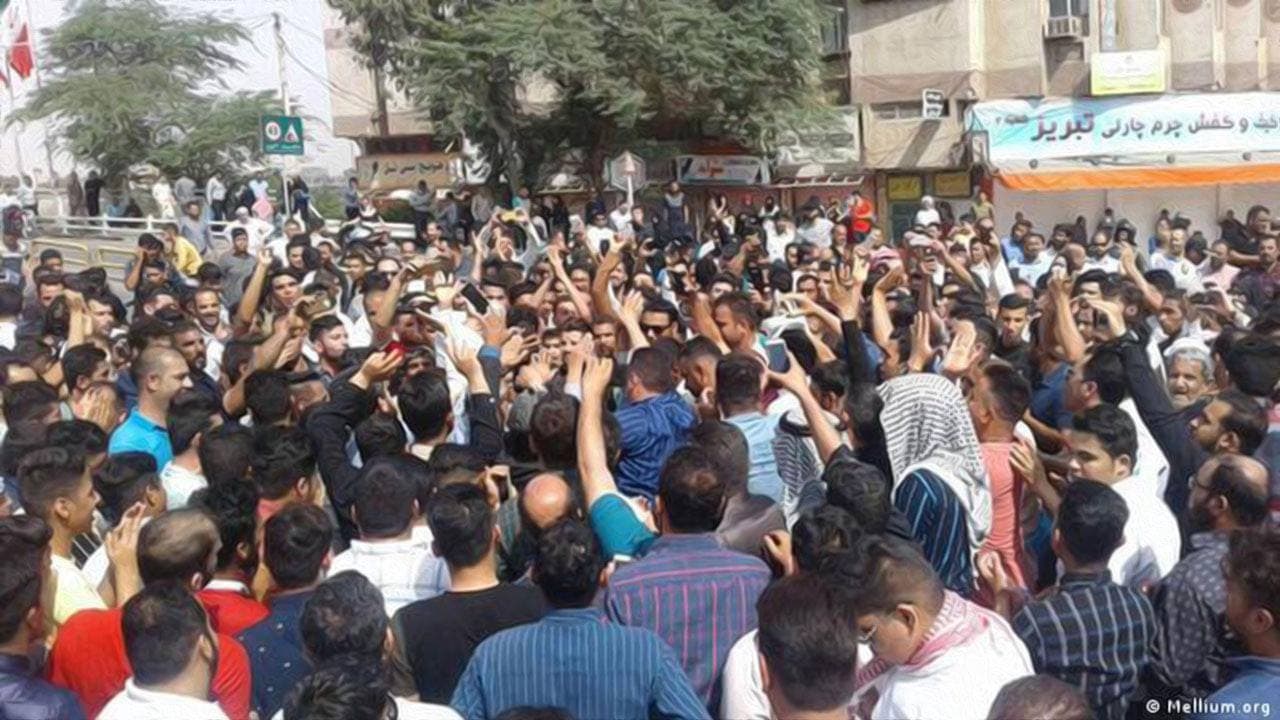 Iranians from Tabriz, the capital city of the country's East Azerbaijan province, took to the streets on Saturday to support the ongoing protests in Khuzestan, which resulted in the death of at least eight citizens shot by security forces.
Hundreds rallied and chanted slogans, declaring unity with the people of Khuzestan despite heavy security presence. The videos received show anti-riot forces on motorcycles, riding through the crowds, attempting to disperse the protesters.
In one video, crowds can be heard chanting, "Azerbaijan is awake and supports Khuzestan." In some other videos received by Avatoday, the protesters chant slogans against anti-riot forces, calling them "dishonourable and shameless."
Meanwhile, protests continued in Ahvaz and new ones broke out in some other parts of Iran, including Bojnord in the northeast of the country, where people marched and chanted in solidarity with Khuzestan.
The protests in Iran's oil-rich province of Khuzestan were sparked by water outages on Thursday July 15, and have continued since, erupting in various parts of this region, including the cities of Susangerd, Shadegan, Khorramshahr, Izeh, and Ahvaz.
Videos received show intense clashes between protesters and anti-riot forces, the use of tear gas against the crowd, and loud sounds of shots can be heard. Some of the videos show unconscious gunshot victims, who appear seriously injured or presumably dead.
Amnesty International on Friday accused Iranian security forces of using live ammunition and birdshot to crush Khuzestan's protests, and called on the Iranian authorities to immediately cease the use of automatic weapons and shotguns firing birdshot.
At least eight protesters and bystanders have been killed by security forces in seven different cities during these protests, according to Amnesty International. Scores of people, including children, have been injured, and many activists and protesters have been arrested by security and intelligence forces, the human rights organization said.
Iran's supreme leader on Friday made his first remarks about the protests in Khuzestan. He said protesters could not be criticized, and blamed government officials for Khuzestan's water crisis, and called on them to resolve it.
The UN High Commissioner for Human Rights Michelle Bachelet on Friday released a statement, expressing deep concern about the casualties of the protests and the widespread arrests. She urged the Iranian authorities to address the chronic water shortage in Khuzestan instead of using excessive force to crush the protests, which she said were carried out by people driven to desperation by years of neglect.
Iran's Foreign Ministry on Saturday condemned UN's criticism of the events in Khuzestan, calling Bachelet's statement invalid, and full of false accusations and misinformation, aimed at causing division within the country.