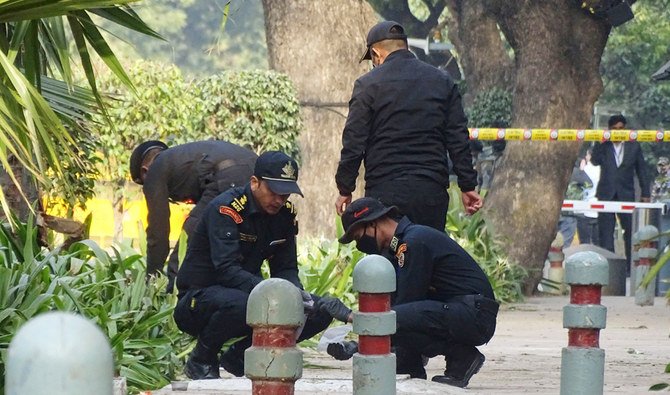 National Security Guard soldiers inspect the site of a blast near the Israeli Embassy in New Delhi, India, Saturday, Jan. 30, 2021. (AP)
Indian media on Saturday accused Iran of staging an attack near the Israeli Embassy in New Delhi.
A small bomb detonated nearly 50 meters from the Israeli Embassy on Friday, damaging nearby cars but causing no injuries.
A letter was reportedly recovered from the site termed the incident a "trailer."
Local media reports say that an envelope found at the blast site "revealed the Iranian connection to the blast" as their targets were Israeli installations in India.
"An Iranian hand is suspected behind the minor IED (improvised explosive device) blast that took place on Friday outside the Israeli Embassy in New Delhi," New Delhi-based English weekly news magazine, India Today, reported on Saturday.
According to the magazine, the letter describes "Iran's General Qasem Soleimani and Iran's top nuclear scientists Mohsen Fakhrizadeh as martyrs."
Soleimani was killed in a US airstrike at Baghdad International in 2020. Iran's top nuclear scientist Fakhrizadeh was also killed in Tehran in November 2020.