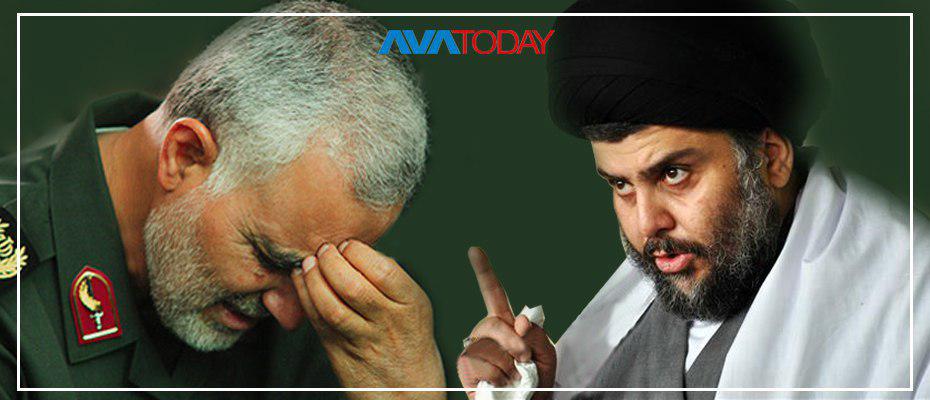 ERBIL, Kurdistan Region - Iraq's major Shiite cleric, Moqtada Sadr, gave a 48-hours ultimatum on Thursday to the Iran's Ayatollah Khamenei's representative, Qasim Sulimani, who was in Iraq during in the country's parliament election.
Sources talked to Avatoday on condition of anonymity confirmed the departure of Iran's representative late Friday before the ultimatum ended. Sulimani is reportedly headed to Iraqi Kurdistan's city of Sulimanyia, where Iran's ally, Patriotic Union of Kurdistan (PUK), is in major power.
 Sadr has declared earlier that the new government of Iraq must be shaped without Iran's presence or intervention.
 Iranian Revolutionary Guards Commander General Qasim Sulimani was in Baghdad to push for the formation of a new government in Iraq, after preliminary results show anti-Iranian coalition ahead.
 Sulimani has been holding meeting with their Iraqi allies Nouri al-Maliki, former prime minister and Hadi al-Ameri, the leader of military group of Hashd al-Shaabi.
 He has also met Qais khazali, the leader of Iranian-funded Shiite militia, Asaib Ahl al-Haq, current foreign minister, Ebrahim Jafari and a number of other Shiite leaders including Mehdi Mohandes.
 According to a confidential source talking to Avatoday, Sadr has refused to meet Iran's representative and give a 48-hours departure ultimatum instead, before Sulimani forced to head to the Kurdish region's city of Sulimanyia.
 Ziae al-Asadi, political representative of Sadr's group has declared in a statement that Iran is trying to shape an alliance of Nouri al-Maliki, Hadi al-Ameri, Heidar Abadi, current Iraqi prime minister, and the Kurdish political party of PUK in service of Iran.
 Asadi added that the major Shiite group will use all of their "democratic rights and power" to prevent Iranian's intervention in Iraq.
 The 45-years-old Shiite leader, Sadr, who has spent his teenage life in Tehran and was previously under Iran's support, now blames Iran not only for Iraq's political crisis but also for the regional unrests.