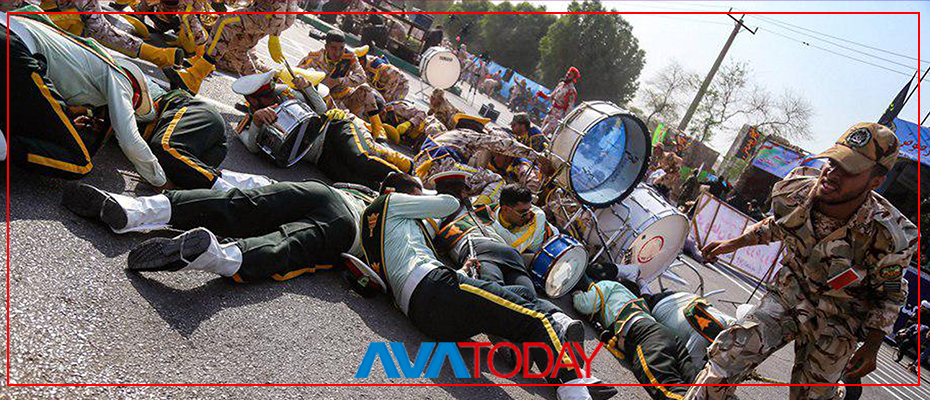 At least 28 people, including the bodyguard of the head of Ahwaz's Iranian Revolutionary Guard Cops (IRGC), were killed in an attack on a military parade inside the city on Saturday, September 22.
According to information obtained by Avatoday, one of the gunmen in the Ahwaz attack was a member of the Iranian Revolutionary Guard Corps (IRGC) who had infiltrated ISIS.
"30-year-old Javad Sari, one of the gunmen who was living in Alawi district in Ahwaz, was a member of IRGC. He (Sari) travelled to Syria and Iraq to sneak into ISIS," a confidential source told Avatoday on condition of anonymity. 
"Sari was in direct contact with an IRGC commander, Haj Naser (nickname)," the source said. "He (Sari) was tasked to bring an ISIS team inside Iran to be ambushed by IRGC."
According to the source, Sari convinced ISIS to send a team to Iran by claiming that Iranian President, Hassan Rouhandi, would attend the Ahwaz military parade on September 22.
Abu Mehdi Mohajer, the ISIS Amir in Syria, was prepared to send a team inside Iran, the source continued.  He was convinced by Sari and an ISIS team entered Iran through Khaneqin border point "by a permission letter from IRGC" and arrived at the location of the parade. 
The ISIS team entered the parade with the help of Haji Naser, the source added, "after the parade started, Sari shot a wall close to the parade to alert Haji Naser of his presence and avoid killing people, but the other three ISIS gunmen opened fire at the parade."
The Iranian media at first announced right after the attack that ''three attackers were killed and one arrested," but after several hours it was announced that all the gunmen were killed. 
According to the source, Sari, who did not shoot at the parade, was arrested while he was waiting for Haji Naser. Right after Sari was arrested, someone came and took him away saying that "He (Sari) needs to be interrogated," then "the IRGC killed Sari to prevent the plan from leaking out."