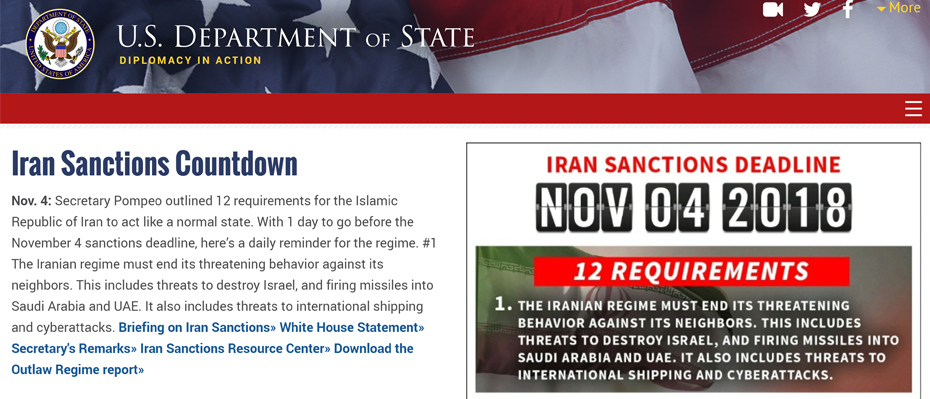 Washington has re-imposed oil and financial sanctions against Tehran early hours on Monday, hoping to change the Islamic Republic's regional and international behavior.
Iranian President Hassan Rouhani declared that his country will sell oil and break the sanctions despite the new tough regulations.
At a meeting with local economists broadcast live on state television on Monday, Rouhani claimed that "America wanted to completely cut Iran's oil sales and make it to a zero level…but we will continue to sell our oil and we will break the sanctions."
US President Donald Trump said on Sunday that the new round of the sanctions against Iran is the "toughest" ever and that Iran is struggling with the consequences.
"The Iran sanctions are very strong; they are the strongest sanctions we have ever imposed. And we will see what happens with Iran, but they're not doing very well, I can tell you."
Animosity between Tehran and Washington has significantly escalated sine Trump pull out of the 2015 Iran Nuclear deal in May, called the deal "worst ever" agreement and announced that the sanctions will be reimposed against Iran.
In a rally in Tehran hold on Sunday Iran's top military chief Mohamad Ali Jafari warned US and Trump of military threat against Tehran.
"Never threaten us, because we can still hear the horrified cries of your own soldiers...and you know it better that your old soldiers are committing suicide every day due to the depression, fear and shame that they suffered in battlefields, "he said among a crowd, who showed up on Sunday to support the Islamic regime.
"Don't ever threaten us militarily," Jafari warned.
Based on the data published by the Organization of the Petroleum Exporting Countries (OPEC), Iran petroleum, crude oil, and gas exports have already dropped in 2018 comparing to the last year.
Iran, which is highly dependent of its oil exports, is now struggling with wild inflation and sharp drop of currency value, that led to the frequent public strikes inside the country especially in that last few months.
The new sanctions cover Islamic Republic's shipping, financial and energy sectors.