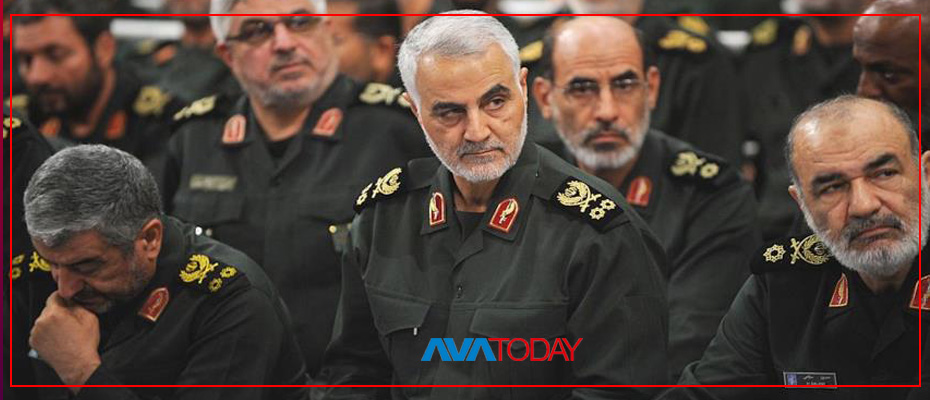 Iran has frequently threatened the American forces in the region
The Iranian Revolutionary Guard Corps (IRGC) evaluated their recent rocket attacks on Iranian Kurds as an "achievement" while threatening "external enemies" of Islamic Republic of similar attacks in future.  
Talking about the recent rocket attacks on the Iranian Kurdistan Democratic party camp in Iraqi Kurdistan on September 8, Yahiya Rahim Safavi, the IRGC commander and a military advisor to the Iranian leader, threatened that his forces will target "eternal enemies beyond the borders and beyond the seas".
He didn't mention any specific political groups or countries as their enemies.
Only a day after the fall of the Iraqi Shiite proxy forces of the Islamic Republic of Iran in the city of Basra and protesters' attack on Tehran's consulate in the city, the Iranian forces targeted the Kurdish Democratic opposition party in Iraqi Kurdistan, killed at least 17 people and wounded up to 40 others.
Ali Shamkhani, Secretary of Iran's Supreme National Security Council has also warned that the attack on Kurds is "an approach against any kind of threats we will face in future."
He further warned that Iran will react to the external enemies "ten times more" than their one-time threat.
In a separate report published in Tasnim, the official website of IRGCs, they praised "the IRGCs intelligence power "and the recent rocket attacks against the Iranian Kurds in Iraqi Kurdistan as an "achievement", while criticizing the Kurdistan Regional Government for their luck of help to the Islamic Republic in their military agenda against the political groups in the region.
The report has also claimed that a group of American expert visited the party's camp for further investigation on Iran's military operations.
Iran has frequently threatened the American forces in the region, Saudi Arabia and Israel from military attacks.
In the past few months the Iranian military bases in Syria were under constant rocket attacks, believed to be carried out by Israeli forces. Iran has widely prevented the local news agency form covering the military attacks on its bases in Syria.