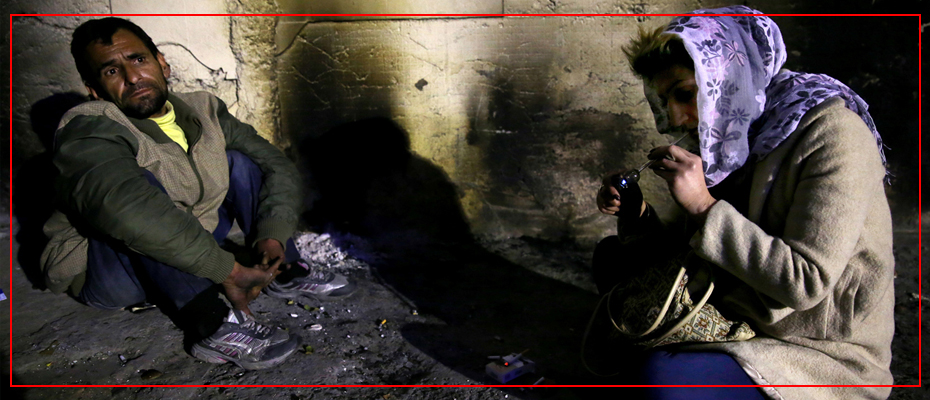 a female addict uses crystal meth in a street in midnight in Tehran, Iran. (AP Photo/Ebrahim Noroozi)
'The price remains the same and inflation had no influence on drug market'
Despite the high rate of inflation and financial crisis in Iran, the price of illegal drugs surprisingly remained stable or even decreased in some periods. The market of illegal drugs therefore as blooming as it was before.
A drug addict talked to Avatoday on condition of anonymity confirmed that the access to drug market is both cheap and easy. "You can buy one gram of opioid for only 3000 toman. You can find the sellers very easily and they are lots of them."
"The price remains the same and inflation had no influence on drug market," he explained.
In 2016, before the escalation of anti- Islamic regime protests, the price of one gram of heroine was 20,000 toman, crystal was 32,000 toman and the price of other drugs remained stable in two years. But two months later, the price of heroin decreased to 15,000 and grass was only 2000 toman per gram. The price of crystal however increased to 45,000 toman because some of the materials will be produced outside of the country and this will change the price accordingly with the value of dollar.
"The price of heroin and some other drugs were reduced, but it is still a beneficial and worthy market for us. Because of the cheap price we have more buyers and even school students are able to pay for the drugs," a seller spoke to Avatoday of condition of anonymity.
According to the Counter-drug Center in Iran, there were 4.5 million drug users in 2015, out of which 2.8 million users were addicted to one of the drugs and the rest are only substantive users.  
According to the statistics 53 percent of the drug addicts are using opioid, 12 percent are using marijuana or grass, 8 percent are addicted to crystal and 8 percent are using heroin.
The drug market in Iran is the only boom market and sellers collect tremendous wealth. Government has left the market without serious control and in the recent financial crisis, it is the only market which remained untouched by the sharp inflation faced by other markets.
As the price of all kind of drug remained stable, it is only crystal that has witnessed a double price increase, from 45,000 per gram to 100,000.
The counter-drug center declared that the reason of the rise of crystal's price was that the government closed the border and stopped the kolbars from cross-border trades. A claim which is untrue and purposefully published to disturb Kurdish kolbar's reputation.    
Kolbar are the semi-official cross-border porters, carrying goods, mostly oil barrels, on their back across the border between the Kurdistan Region and Iran.
The increase of price of crystal was due to the fact that basic materials needed to produce the drug were coming from outside the country.