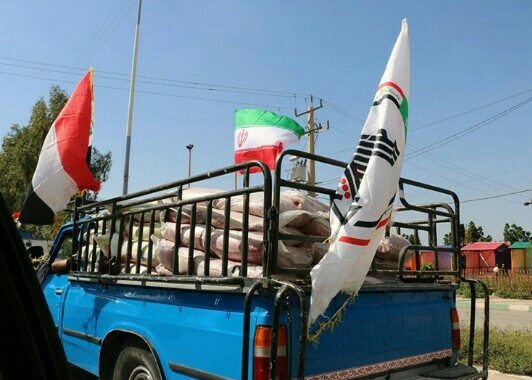 Iranian-backed Iraqi militia Hashd al-Shaabi forces enter Ahvaz
The Islamic Republic of Iran has deployed a number of pro-Iranian Iraqi militias of Hashd al-Shaabi, aimed at suppressing protesters in Ahvaz, confidential sources confirmed to Avatoday on Saturday.
Hundreds of victims of recent massive floods in Iran have been protesting against the government due to its lack of managing the crisis.
Avatoday has learned that the armed forces entered Iran from the border city of Dehloran and have been sent to Ahvaz.
Several videos received on Saturday showed the militants inside the city, with Iraqi flags waving in front of their military trucks. 
Further criticism has reportedly emerged on the presence of the Iraqi militants.
The Popular Mobilization Forces known as Hashd al-Shaabi is an Iraqi military force, a majority of which are Shiite and are highly linked to the Iranian Revolutionary Guards.