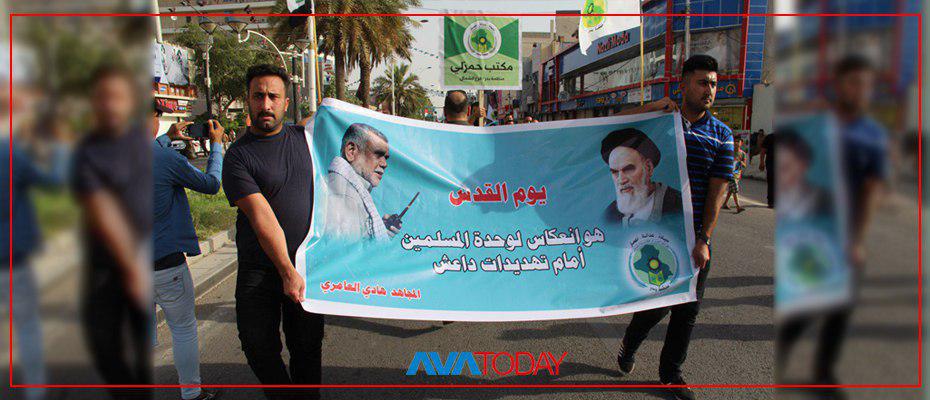 The pro-Iranian Shia militia in Iraq known as Hashd al-Shaabi held Quds Day in Kirkuk on Friday, driving over US and Israeli flags, Avatoday reported. 

The military group is directly affiliated with Iranian Revolutionary Guard Corps (IRGC).

According to a video obtained by Avatoday, during the event the US and Israeli flags were all over the ground and the military vehicles belong to Hash al-Shaabi patrolled over them. Washington has not so far responded to the traditionally Iranian event held in Iraq's Kirkuk.
Quds Day is an annual event held on the last Friday of Ramadan initiated by the Islamic Republic of Iran in 1979 to express support for the Palestinians and to oppose Israel.
No comments have been made on the event from Iraqi side, either.
Hashd al-Shabi is part of Iraqi armed forces which have a military cooperation with US forces in fight against ISIS. The U.S spends millions of Dollars in indirectly training and modernizing the group inside the Iraqi forces.
The group which has also receiving military and financial support from the Islamic Republic of Iran, has never denied their loyalty to the neighboring Shia regime. 
Kurdish dominated multi-ethnic city of Kirkuk is part of Iraqi disputed area which is claimed by both Iraqi Central government and Kurdistan Regional Government. As ISIS took control of large parts of Iraq in 2014 and Iraqi army fled Kirkuk, the Kurdish Peshmerga forces gained control of the city and prevented ISIS from further advance.
In cooperation with some members of Patriotic Union of Kurdistan (PUK) and IRGC, Hashd al-Shabi took control over Kirkuk in October 16, 2017.