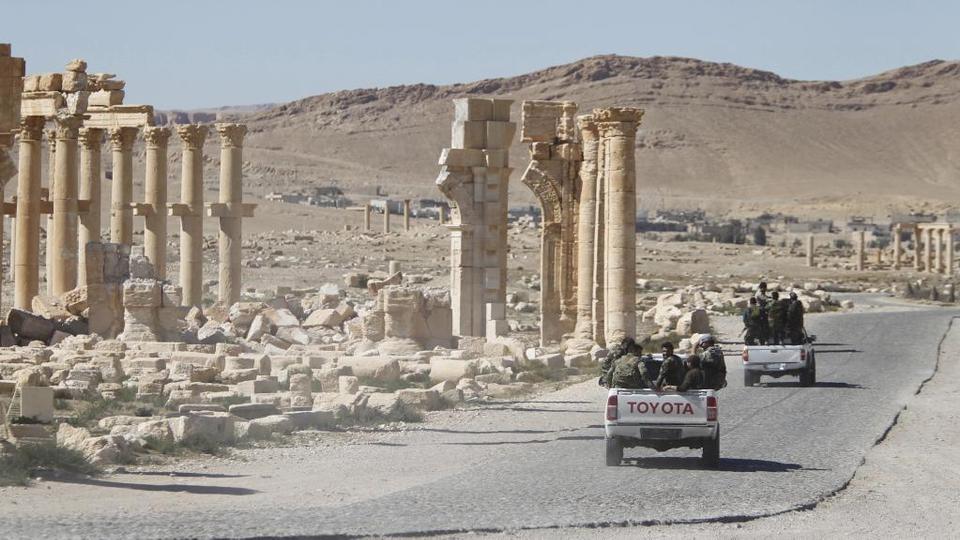 File photo shows Syrian regime forces driving past the Arch of Triumph in the historic city of Palmyra in Syria. (Reuters)
Iran and Russia continue to compete for influence in Syria by claiming that they want to restore monuments in the country, the Syrian Observer reported.
"Both sides are working to portray themselves as protectors of Syria's heritage, ready to restore archaeological sites," the report said.
Iran's Deputy Minister of Heritage, Tourism, and Handicrafts, Ali Asghar Shalbavian, said on Saturday that his country is strongly ready to rebuild archaeological and touristic areas and monuments in Syria.
"Iran is ready to participate in the reconstruction and restoration of Syria's archaeological and touristic areas, which have been vandalized. This comes in addition to making tourism investment by building and equipping new hotel facilities," Shalbavian was quoted by IRNA as saying.
The Iranian official made the remarks during his meeting on Saturday with the Syrian regime's Minister of Economy and Foreign Trade, Mohammed Samer al-Khalil, at the Syrian pavilion of the Expo Dubai 2020, which began last Friday.
Syria TV previously reported that Iranian militias, led by the Revolutionary Guard, are endangering archaeological and historical sites in the Syrian Badia. According to the report, Iranian militias are using these sites as storage depots for weapons and missiles which they smuggle into Syria.
The TV report said that most of the old fortresses and archaeological buildings in the Palmyra area, east of Homs and Deir-ez-Zor countryside, have been turned into weapons depots in order to protect them from airstrikes by Israel.