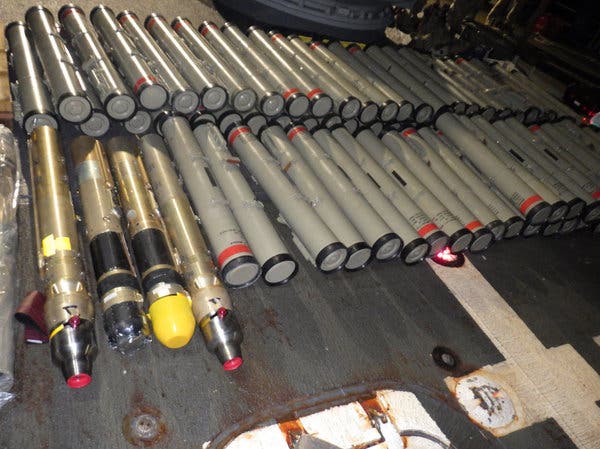 Components of two so-called 358 antiaircraft missiles, lower left, were found this month by the United States Navy.Credit...Photo by Petty Officer 2nd Class Michael Lehman, U.S. Naval Forces Central Command / U.S. 5th Fleet
Saudi Arabia's defense ministry spokesman on Monday accused Islamic republic of Iran of smuggling missiles and drones to Yemen's Houthi movement, Reuters reported.
Colonel Turki al-Malki, who is also spokesman of the Saudi-led military coalition battling the Houthis, was speaking on Saudi-owned Al Arabiya television.
Iran-backed Yemeni Houthi group has conducted hundreds of cross-border attacks on the kingdom.
Tehran frequently has been accused of providing the group with missiles and military equipment.  
Last year, Saudi Arabia reported that its security forces discovered a "terrorist cell" with alleged ties to Iran's Revolutionary Guard. At least 10 people are reportedly detained by Saudi police.
A statement released at that time by the Presidency of State Security said three of those detained had received training in Iran by its Iranian Revolutionary Guard Corp (IRGC) in October 2017 on manufacturing explosives.
IRGC was designated by the US as a foreign terrorist organization in 2019.