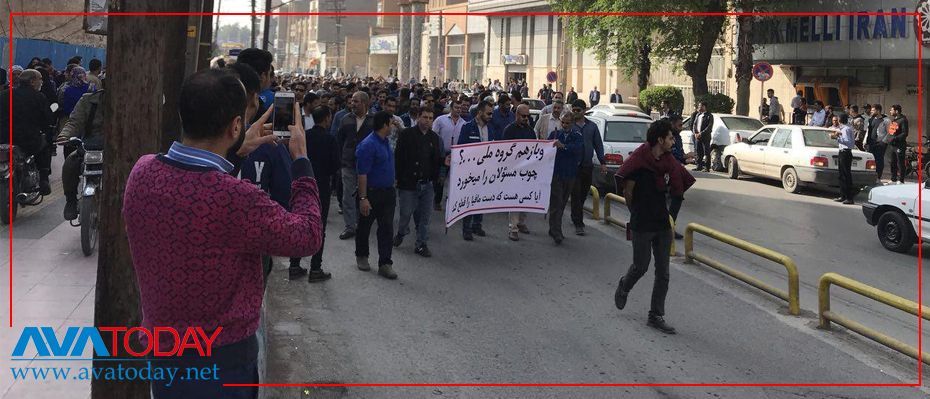 Students in Tehran University gathered on Tuesday in support of workers of Haft Tappeh Sugarcane Factory who have been on strike for 17 consecutive day against delayed salaries and privatization of the factory.
The students gathered in front of the university, chanting "we are the son of workers and will stay alongside them." They blame the Islamic republic for privatization of factories and jailing worker activists.
"From Haft Tappeh to Tehran, all the workers are in prison," the students shouted.
In the Iranian Arab-dominated city of Ahwaz, workers of Khuzestan Steel Company also took the street in support of workers of Haft Tappeh.
Haft Tappeh workers blamed the representatives of Khuzestan in Parliament for remaining silent on the Issued and asked them to join the protesters.
"You, Mr. representative" a protester says in a video obtained by Avatoday, "we have been on strike for 17 days, but none of you came to us to see what our problem is."
"You have to solve our problem," he added.
The protesters are angry over delayed salaries and most of the workers said they borrow money to pay for family needs.
"Workers do not know what to do if their children get sick, because they have no money to take them to doctor," the protester explained.
Iran is facing a harsh financial situation since the US president Donald Trump left Iran's nuclear deal in May and re-imposed the international sanctions.
Bank customers also gathered in front of Caspian Bank of Rasht on Tuesday as they have lost their money since the financial crisis hit the country.
"We know that the factory is almost bankrupt, but the owners do not announce it," One of the workers of the factory said on condition of anonymity.
"They (owners) encourage people to go back to their works, and pretend as everything is normal," the bank employee added.