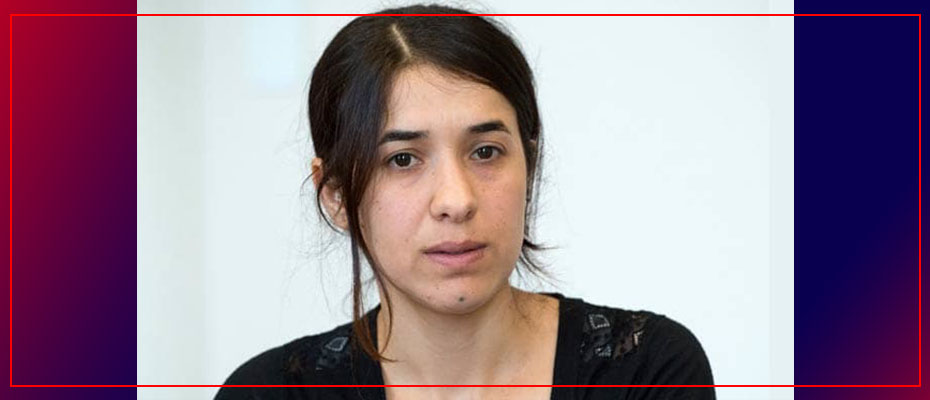 A chapter from the book "The Last Yezidi Genocide" by Amy L. Beam.
Congratulations to Nadia Murad who was awarded the 2018 Nobel Peace Prize for her campaigning to rescue the kidnapped women and children still held captive by ISIS. Her pleas continue to fall on deaf ears. Let us hope that soon some countries of the world will show humanity, rescue the Ezidis still being held prisoner by the Islamic State, and give asylum to Ezidis.
The knowledge that on a daily basis over 3,000 Yezidis were being raped and tortured seared the soul of every Yezidi. Yezidi activists beseeched every western government for funds to help them free the kidnapped women, girls and children. Western governments were united in their refusal to pay ransom to free the Yezidis.
In March 2016, I was part of a delegation that met in London with UK parliament members. I took Salwa Khalaf Rasho, an eighteen-year-old Yezidi girl who had been held captive for eight months, to testify. Haider Shesho, Yezidi commander of 3,000 independent militia fighters, also testified. We asked for aid to fight Daesh and funds to return the kidnapped Yezidis. With a $15 million dollar fund, 2000 Yezidis could be freed very quickly. No military action would be required.
Our recommendations were presented to the UK House of Commons for consideration. Rt. Hon Dominic Grieve QC MP, on the UK's Intelligence Committee, stated the "United Kingdom policy is not to pay ransoms to kidnappers either directly or indirectly."
On May 11, 2016, UK MP Tobias Ellwood, Parliamentary Undersecretary of State, responded in writing:
"Ransom payments to terrorists are illegal under both UK and International law because it amounts to financing terrorism. This includes any payment where there is reasonable cause to suspect that the money, or other property, may be used for the purposes of terrorism. In terrorist kidnap cases, payment of a ransom to an intermediary could well result in at least some of the funds being used for the purposes of terrorism. As such, it would be inconsistent with our policy to support people smuggling in any context, even in this tragic case."
Nadia Murad Bassee Taha is a Yezidi woman from Kocho who was kidnapped and sexually abused at age 19. After Nadia escaped, she courageously pleaded to the UN Security Council on Dec. 16, 2015, to rescue 3,700 Yezidi women and children. Here is part of her testimony:
Prior to 3 August 2014, I was living with my family, my brothers and sisters in the pretty, quiet village of Kocho. But then the Islamic State attacked our region, and we found ourselves facing a true genocide. A large number of those forces of evil had come from different States with weapons, equipment and uniforms. Their aim was to eliminate all Yazidi existence under the pretext that — according to them — we were infidels.
The Islamic State did not just come to kill us, women and girls, but to take us as war booty and merchandise to be sold in markets for a bit of money, or even for free. Those crimes were not committed without design; they were part of a premeditated policy. The Islamic State came with the sole aim of destroying the Yazidi identity through force, rape, recruitment of children and destruction of all of our temples, which they took control of.
All of this can be interpreted only as an act of genocide against our identity, in particular against Yazidi women. Rape was used to destroy women and girls and to ensure that they could never again lead a normal life.
On 15 August, elements from the Islamic State summoned us to the village school. They separated the men from the women and children. I saw them from the second floor of the school as they took away the men and killed them. Six of my brothers were killed, while three survived the mass killing. We, the women and children, were taken by bus from the school to another area. They humiliated us along the way and touched us in a shameful way.
They took me to Mosul with more than 150 other Yazidi families. There were thousands of families in a building there, including children who were given away as gifts. One of the men came up to me. He wanted to take me. I looked down at the floor. I was absolutely terrified. When I looked up, I saw a huge man. He was like a monster. I cried out that I was too young and he was huge. He kicked and beat me.
A few minutes later, another man came up to me. I was still looking at the floor. I saw that he was a little smaller. I begged for him to take me. I was terribly afraid of the first man. The man who took me asked me to change my religion. I refused. One day, he came and asked me for my hand in what they called "marriage". I said that I was ill; most women were menstruating because they were so scared. A few days later, this man forced me to get dressed and put on my makeup. Then, on that terrible night, he did it.
He forced me to serve in his military company. He humiliated me daily. He forced me to wear clothes that barely covered my body. I was not able to take any more rape and torture. I decided to flee, but one of the guards stopped me. That night he beat me. He asked me to take my clothes off. He put me in a room with guards, who proceeded to commit their crime until I fainted.
I was finally able to escape three weeks after my abduction. I currently live in Germany. Thankfully, Germany provided me with the necessary medical attention, for which I thank that country.
But this is not just about my suffering; it is about collective suffering.
Daesh gave us two options: become a Muslim or die. And even men who agreed to become Muslims out of fear for their lives were killed, their women enslaved and their children recruited. Sixteen mass graves have been discovered so far. One of them contains the remains of eighty women — including my mother — whom they did not desire and so decided to kill. More than 400,000 people have been displaced, and over 40 per cent of our land is still under the control of Daesh.
Our liberated areas are uninhabitable because of the devastation, and Yezidis have no confidence that they will ever live on their land again. Just last week, more than seventy Yezidis drowned during their perilous journey to Europe.
Thousands are looking for a way out, and a great many see migration as their only option. The Islamic State has made Yazidi women fodder for human trafficking. To the Security Council today, I lay out our demands, and I very much hope that humanity has not yet come to an end.
First, we demand the liberation of the more than 3,400 women and children still suffering and living under the mercy of the merciless.
Secondly, we demand that the incidents that took place, including the murders, collective slavery and human trafficking, be defined as genocide. I am asking the Council today to find solutions to the issue of genocide before the International Criminal Court.
Thirdly, demand the liberation of all of our areas, including my own village of Kocho, so that we can bury our dead. We demand the establishment of international protection for the Yazidi areas and for the minorities under threat so that, one day, we can return to our regions and live in peace. I also request the allocation of an international budget, under international supervision, to compensate the victims and rebuild the region.
Fourthly, we ask that members open up their countries to my community. We are victims and we have the right to seek a safe country that safeguards our dignity. Every day, hundreds of people risk their lives. We entreat you today to consider the resettlement option for the Yezidis and the other minorities under threat, especially the victims of human trafficking, as Germany has done.
Fifthly, and finally, we ask the Council, please, to put an end to Daesh once and for all. I suffered the pain they inflicted on me. I saw their evil. All those who commit the crimes of human trafficking and genocide must be brought to justice so that women and children can live in peace — in Iraq, Syria, Nigeria, Somalia and everywhere else in the world. These crimes against women and their freedom must be brought to an end today.
Nadia's press coverage gained momentum. She went on a grueling world-wide tour pleading for help from heads of state and parliaments. Time magazine named Nadia one of the most influential people in the world in 2014. She was awarded the Václav Havel Human Rights Prize in 2016 and was also named a U.N. Goodwill Ambassador for the Dignity of Survivors of Human Trafficking.
After more than three years, Nadia was still pleading through her tears. Why wouldn't her tears stop? Her appeals were met with respectful sympathy and photo opportunities, but not one nation helped to free the kidnapped women and children.
U.N. Secretary General Ban Ki-Moon honored Nadia in a special ceremony as he, too, hugged her and smiled for his photo while she literally cried. Nadia, herself, repeatedly said she did not care about all the honors bestowed upon her. Her singular, unrelenting, urgent desire was to rescue the women, girls, and children.
Ban Ki-Moon's position on Nadia's request was an unspeakable shame, defiantly supported by all the leaders of the world's democracies. Nadia enlisted the help of human rights lawyer, Amal Clooney, who also addressed the U.N. and stated she was ashamed of their failure to help the Yezidis.
On June 2, 2016, Ban Ki-Moon addressed the UN Security Council on sexual violence in conflict. He threw flames on the fire by deceitfully stating, "It is estimated that the Yezidi community gave the Islamic State up to $45 million in ransom payments in 2014 alone."
Yezidis began accusing the KRG of misappropriating "the missing $45 million dollars," when, in fact, there was no evidence of there ever being a fund of $45 million. It was irresponsible for the UN Secretary General to make such an unsubstantiated claim. The definition of "up to" a certain amount means anything that does not exceed that amount. Is $1 million dollars considered "up to" $45 million? Was this wording intentionally selected so as to deny the claim of $45 million dollars when challenged?
By the end of 2014, no more than 400 Yezidis had been freed or escaped from Daesh without a ransom. Even at a price tag of $5000 per person, that would equal only two million dollars. This deceit by the U.N. Secretary General was a clear threat to any government or organization that if they attempted to pay ransoms to free the Yezidi captives, they would face sanctions or prosecution under anti-terrorism laws.
Khairi Bozani, Director of the Yezidis Affairs Office in the Kurdistan Regional Government, sent an open letter to Ban Ki-Moon challenging his statement as "too vague and uncertain." He also stated that Yezidi officials and community members have called on Ban Ki-Moon repeatedly, pleading with him to save them from Daesh shootings, beheadings, and kidnappings.
"After all these crimes were committed against Yezidis and their calls for help [remained unanswered], we would like to ask you, have you done anything for them other than expressing your concern about the fate of the minority?" Bozani questioned.
Daesh oil sales into Turkey in 2014 and 2015 averaged $35 million dollars per month. This accounted for half of all income for Daesh. The amount of ransom money paid by families to free 2000 Yezidis could not have exceeded $10 million dollars in two years and was probably half that amount. Yet, the western countries remained adamant that they would not pay ransom to free the Yezidis because that would be funding terrorism.
In November 2015, the Yezidi Affairs Office stopped officially paying families when their family members returned from Daesh. In June 2016, one week after Ban Ki-Moon addressed the UN Security Council suggesting Yezidis had paid $45 million dollars in ransom to terrorists, the Yezidi Affairs Office quietly paid $4000 each to some survivors who had returned from Daesh the previous year.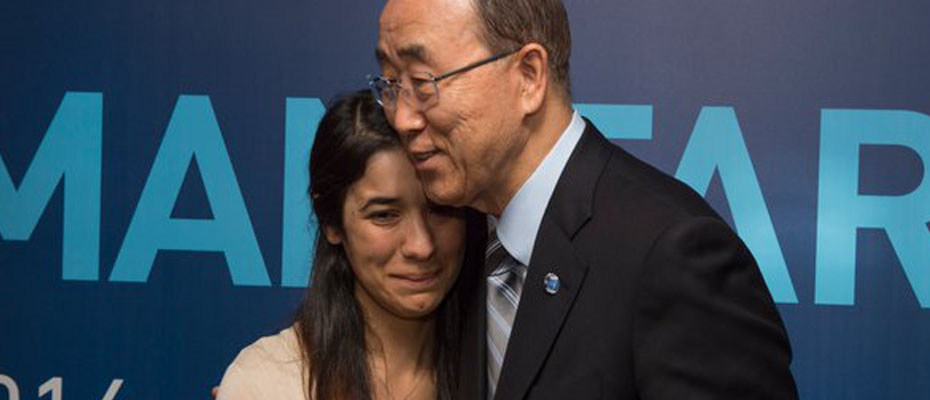 In September 2016, the US Congress approved 1.15 billion dollars in sales of tanks and heavy arms to Saudi Arabia. In January 2017, the U.K. approved 100 million pounds (130 million dollars) in sales of heavy arms to Turkey after its 2015-2016 armed campaign against its Kurds displaced estimates of one million people. Both of these countries are majority Sunni Islamic and have been widely accused of supporting Daesh terrorists.
By 2018, an estimated 3,000 Yezidis were still in the hands of Daesh. Some remained in regular phone contact with family members who were unable to raise the money to pay for their return. The Yezidi communities were bankrupt and could not find $5 to top up their phone, let alone $5,000 for ransom for a girl who was being raped for more than two years.