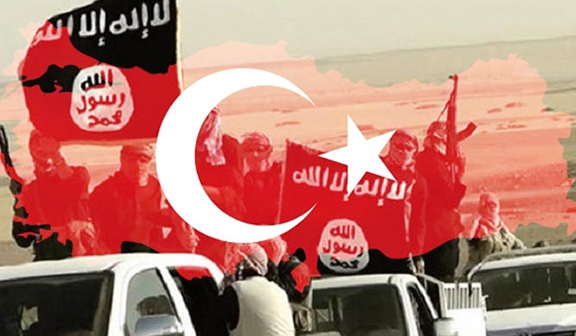 RIC, Rojava Information Center
Over 40 former ISIS members now working in Afrin as part of Turkish-backed forces have been identified in a new database, published today by Rojava Information Center.
They include commanders, brigade leaders, recruiting officers and co-ordinators working directly with the Turkish intelligence services. The database includes their role under ISIS, their new role as part of Turkish-backed jihadist forces in the Afrin region, their current location, biographical information, and in some instances photographs of the individuals in question.
Some names and photos were obtained by Rojava Information Center and OSINT researchers following opposition Telegram channels in Afrin, others were provided by the Foreign Relations Bureau of North East Syria, and others identified in research presented at the International Forum on ISIS.
Names included in the database include: Isma'il Firas al-'Abbar, who was an ISIS commander in Deir-ez-Zor before becoming a Turkish-backed brigade leader in Afrin; Basil Nayef al-Shehab, who fought against YPG with ISIS in Kobane before becoming a commander in the Turkish-backed Sultan Murad brigade and participating in the occupation of Afrin: and Abu al-Baraa al-Ansari, an ISIS commander in Deir-ez-Zor who is now a commander of Turkish-backed militia Ahrar al-Sharqiya.
Across Afrin, groups like Ahrar al-Sharqiya and the Sultan Murad Brigade are imposing sharia law, and engaging in extortion, kidnapping, murder, torture, rape, and gender-based violence, in actions possibly amounting to war crimes per the United Nations. You can see our report here for more information about the atrocities being committed by these jihadist militias, and the depth of Turkish state support for their actions.
Rojava Information Center researcher Joan Garcia says: This database shows just a fraction of the depth and extent of Turkish collusion with ISIS. Multiple prominent ISIS commanders and fighters are now operating openly as commanders in militias funded, armed, trained and controlled by Turkey.
Some of these individuals work in direct cooperation with the Turkish intelligence services (MIT), and all are part of a chain of command reaching directly to Ankara and president Reccep Tayip Erdogan.
Some are known to have passed through Turkey once leaving ISIS as their defeat became apparent, taking the return path on the 'jihadist highway' which brought tens of thousands of jihadist fighters and their families into Syria via Turkish soil, in both tacit and active collusion with the Turkish state. In name, Turkey is a part of the International Coalition against ISIS. In reality, it is a state sponsor of terrorism funding and backing tens of thousands of jihadi fighters, including many with direct links to ISIS."
Name

AKA

Village

Town/region

Birth year

Family info

Role under ISIS

Role in Turkish-backed militias

Current location

Notes

Pictured?

Isma'il Firas al-'Abbar

 

Sabikhan

Deir-ez-Zpr

1983

 

Commander in Subikhan, Deir-ez-Zor

Brigade leader of Turkish backed militia, participated in invasion and occupation

Afrin

Travelled from ISIS to Afrin via Turkey

 

Basil Nayef al-Shehab

Abu Zeid al-Tai

Qotorba

Tel Hamis

 
 

Fought against YPG in Kobane and Manbij

Commander in Sultan Murad Division, participated in Turkish invasion and occupation of Afrin

Afrin/Al-Bab

First an Al-Nusra member, subsequently joined ISIS. Injured in Manbij, taken to Mosul for an operation

Y

Shawkat Khawaja Samawi

 

Shiyokh

Deir ez-Zor

1968

 

Married to a Kurdish woman from the Majar tribe, Kobane

Commander of a group of fighters in turkish-backed militia

Jarabalus

 
 

Abu al-Baraa al-Ansari

 
 

Deir ez-Zor

 
 

commander in Deir-ez-Zor

Commander of Ahrar-al-Sharqiya, Turkish-backed militia

Afrin

Sentenced to death by Baghdadi, escaped to join Turkish-backed forces: https://www.iraqinews.com/iraq-war/is-chief-baghdadi-orders-320-followers-to-be-killed-for-disloyalty-reports

Y

Mohammed Yassin Zair

 

Salhabiya, Baza'a

al-Bab

 
 

In co-ordination with ISIS

Co-ordinates between Turkish intelligence and Turkish militias in Afrin, participated in Turkish invasion and occupation of Afrin

Afrin

Two brothers, Ward and Fahd, were with ISIS until the end in Deir-ez-Zor, fighting in Garanij village. They were in daily communication 

 

Ammar Abdul Aziz al-Abbas

Abu Hamza/Battar

Hermoushiya

Deir-ez-Zor

 

Obeidat Bakara tribe member

ISIS member

Member of Ahrar al-Sharqiya, Turkish-backed militia in Afrin

Afrin

 
 

Abdul Qader al-Saweij

 

Saba'a Arbayin

Shaddadi

 

Bu Rahmat Bakara tribe member

ISIS member, water tanker driver

Member of Al-Hasekah Shield brigade, Turkish-backed militia

Afrin

 
 

Mohammed Mahmoud al-Jassem

 

Dekan

Sarin

1986

Mother: Warda

ISIS member in Sarin

Member of security apparatus and recruiting officer with Turkish-backed militia, has conscripted young people from Sarin and Dekan among others

Jarabalus

 

Y

Abdullah al-Tawheed

 
 
 
 
 

ISIS member in al-Bab

Member of Sultan Murad, Turkish-backed militia

Al-Bab

Pictured both during membership of ISIS and as member of Turkish-backed group

Y

Ahmad Ayoub al-Hissu

 

Rehiya

 
 
 

ISIS member

Official working with Turkish-backed militias

Turkey

 
 

Thamer Nawar al-Khalloufi

Abu Abbas

Umm Kheifa

Tel Hamis

 
 

Fought in Tel Maroof, Jazaa and Al-Rihiya, moved to Shedaddi with ISIS

Recruiting officer with Ajnad al-Hasakah (Soldiers of Hasekah), Turkish-backed militia

Afrin

First an FSA member serving under Abu Hammam, after travelled to Turkey before arriving in Afrin

Y

Hamad al-Salama

 

al-Shiyokh al-Tahtani

Deir ez-Zor

 
 

ISIS member

Security chief for Turkish-backed militia dealing directly with MIT (Turkish intelligence service)

Jarabalus

 
 

Khalil Ahmed Nuri

 

Arishah

al-Shaddadi

 
 

ISIS member in al-mayadeen, participated in attack on Abu Khashab

Turkish-backed militia member

Afrin

Member of FSA and Al-Nusra front prior to joining ISIS

 

Ammar Musa Al-Hammadi

 

Kayrawan

Dirbasiyah

 
 

ISIS member in Raqqa

Turkish-backed militia member

Jarabalus

 
 

Saleh Shedadeh

 

Qanya

Kobane

1986

Parents: Muhummad al-Ahmad and Amina

Fought against YPG in Kobane, travelled to Jarabalus as ISIS member there

Turkish-backed militia member

Jarabalus

 
 

Bassil Hamoud al-Yassin al-Shaykan

 

Al-Jalaa Farm

Raqqa

 
 

ISIS member

Turkish-backed militia member

Jarabalus

 
 

Yassin Hamoud al-Yassin al-Shaykan

 

Al-Jalaa Farm

Raqqa

 
 

ISIS member

Turkish-backed militia member

Jarabalus

 
 

Bashar Hamoud al-Yassin al-Shaykan

 

Al-Jalaa Farm

Raqqa

 
 

ISIS member

Turkish-backed militia member

Jarabalus

 
 

Ahmed al-Jassem

 

Dekan

Sarin

 

Mother: Warda

ISIS member

Turkish-backed militia member

Jarabalus

 
 

Shaddad Abboud al-Aqla

Abu Yarub

Guyiran

Sere Kaniye

1987

Al-Bakaa tribe member. Mother: Sarah Abdul Aziz, from Al-Ali tribe

ISIS member in al-Mayadeen

Turkish-backed militia member

Jarabalus

At the beginning of the revolution, a prominent Free Syrian Army activist in Guyiran neighbourhood. Following agreement between FSA and Syrian regime, travelled to Al-Mayadeen and joined ISIS

 

Hamad Abdullah

 

Samihan

Tel Barak

1995

 

ISIS member

Turkish-backed militia member

Afrin

Also al-Nusra Front member prior to joining ISIS, fought YPG in Tel Barak, travelled to Afrin via Turkey

 

Mohammed Ahmin Asyoud

 

Bilqis, Sagira

Tel Hamis

1975

Mother's name is Naima

ISIS member in Tel Hamis

Turkish-backed militia member

Euphrates Shield region

 

Ahmed Ahmin Asyoud

 

Bilqis, Sagira

Tel Hamis

1983

Mother's name is Naima

ISIS member in Tel Hamis

Turkish-backed militia member

Euphrates Shield region

 

Amer Suleiman al-Abdullah

 

Hanwha Kabira

Tel Hamis

1981

Mother's name is Fawza

ISIS member in Tel Hamis

Turkish-backed militia member

Euphrates Shield region

 

Adnan Sulaiman al-Salem

 

Hanwha Kabira

Tel Hamis

1983

Mother's name is Fawza

ISIS member in Tel Hamis

Turkish-backed militia member

Euphrates Shield region

 

Ismail Saleh al-Faihan

 

Hanwha Kabira

Tel Hamis

1985

Mother's name is Fawza

ISIS member in Tel Hamis

Turkish-backed militia member

Euphrates Shield region

 

Thamer Nawaf al-Dahas

 

Umm Keif

Tel Hamis

1987

Mother's name is Mahya

ISIS member in Tel Hamis

Turkish-backed militia member

Euphrates Shield region

 

Mejhem Nawaf al-Dahas

 

Umm Keif

Tel Hamis

1983

Mother's name is Mahya

ISIS member in Tel Hamis

Turkish-backed militia member

Euphrates Shield region

 

Milhem Nawaf al-Dahas

 

Umm Keif

Tel Hamis

1985

Mother's name is Mahya

ISIS member in Tel Hamis

Turkish-backed militia member

Euphrates Shield region

 

Nawaf Khalaf al-Dahas

 

Umm Keif

Tel Hamis

1959

Mother's name is Shiha

ISIS member in Tel Hamis

Turkish-backed militia member

Euphrates Shield region

 

Anwar Ibrahim al-Jabbu

 

al-Beshira

Tirbesiye

1976

 

ISIS member, water tanker driver

Turkish-backed militia member

Afrin

Travelled from ISIS to Afrin via Turkey

 

Omar Abu Abdullahi

Omar al-Shami

 
 
 
 

ISIS member

Turkish-backed militia member

Jindires

Videoed during time with ISIS, after pictured with Turkish-backed forces

Y

Hamed al-Hilu Ibn Majd al-din

 
 
 
 
 

ISIS member

Turkish-backed militia member

Afrin

 

Y

Abu Omar'

 
 
 
 
 

ISIS member

Turkish-backed militia member

Afrin

 

Y

Khader Jamal al-Obeid al-Furani

 
 
 
 
 

ISIS member

Turkish-backed militia member

Afrin

 

Y

Abu Amir al-Diri

 
 
 
 
 

ISIS member

Turkish-backed militia member

Afrin

 
 

Mahran Khalaf al-Sufi

 
 
 
 
 

Head of a group of Tunisian and Algerian jihadist fighters, part of ISIS' internal security apparatus

T+H14urkish-backed militia member, security apparatus

Afrin

 
 

Yousef Ali Meryamini

 
 
 
 
 

ISIS recruiter

Working in Afrin with Turkish-backed militias, apparently recruiting

Afrin

Arrested in Turkey for being an ISIS member, now free and working in Afrin

Y

Hussain Ahmed Dakhmli Abu Jarieh

 

Qabasin

al-Bab

 
 

ISIS member

Works with Turkish-backed militias

al-Bab

 
 

Ali Khudair

Abu Dajana

 
 
 

Brother is the leader of al-Jahish clan, another brother named Abu Hamza al-Juhaishi

ISIS member

Senior lieutenant in the military police

Afrin

 

Y

Rabi Khafajah

 
 
 
 
 

ISIS member working in security

Smuggler

Afrin

 

Y

Ahmad Muhammed Shabu

Ibn Madiha

Neirbiya

Shabha

 

Mother's name is Madiha

ISIS member responsible for seizing property from dissidents

Turkish-backed militia member, known to have robbed and looted residents

Afrin

 

Y