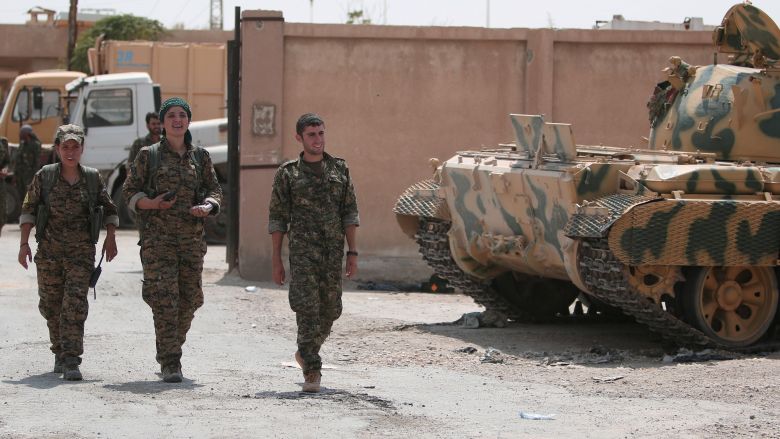 This file photo depicts YPG fighters inside the town of Manbij, Northern Syria, after they retake it from ISIS in August 2016. Reuters Photo
Manbij, a mixed Arab and Kurdish town with a population of nearly 400,000, was liberated from Islamic State in 2016 by predominantly Kurdish forces of Syrian Democratic Forces SDF, backed by US-led coalition against ISIS
AVA Today - Despite Turkish and allied Syrian opposition forces' capture of Afrin in March 18 and threatening to expand military operation to other Kurdish areas in northern Syria including Manbij, Kurdish forces say that they are not afraid by these threats.
Ahmed al-Khadr, member of the Kurdish internal security forces said on Wednesday that "Erdogan has threatened thousands of times to take Manbij but he can't do it. Where was Erdogan when Daesh [Islamic State ISIS] was here? Why didn't he come to Manbij? Why didn't he threaten Daesh? Daesh are a product of Erdogan, they are his mercenaries. Why didn't he threaten them before?"
Manbij, a mixed Arab and Kurdish town with a population of nearly 400,000, was liberated from Islamic State in 2016 by predominantly Kurdish forces of Syrian Democratic Forces SDF, backed by US-led coalition against ISIS
 "When we came here [Manbij] we kept the people safe and we kept the stability, we are the people, we are the sons of the people of Manbij. There is no need to threaten us, airplanes, no airplanes, whatever he will send we will be here," al-Khadr continued.
The US forces have been stationed in Mabnbij since it was cleared from ISIS, "the coalition will be here for sure, as they helped us to liberate the area from Daesh, they will help us with Erdogan's Daesh," al-Khadr added.
Khalaf emphasize on ability of Kurdish forces to defeat Erdogan, to defeat Turkish attack on Manbij and said "anytime they will come we are ready, we together with the coalition are ready."
Speaking to AP, residents of Manbij say the threats have unnerved them, but they are reassured that the US won't leave them to face Turkish advances on their town.
Jamal Satouf, a Manbij resident said "We are afraid, of course. People would fear leaving their homes, their home town. We fear that he [referring to Erdogan] will be here tomorrow."
Turkey believes the YPG, which hold a vast expanse of frontier territory along northeast Syria, is a threat to its national security, Turkish Army and Free Syrian Army FSA started an operation named Olive Branch in January 20 and attacked Afrin.