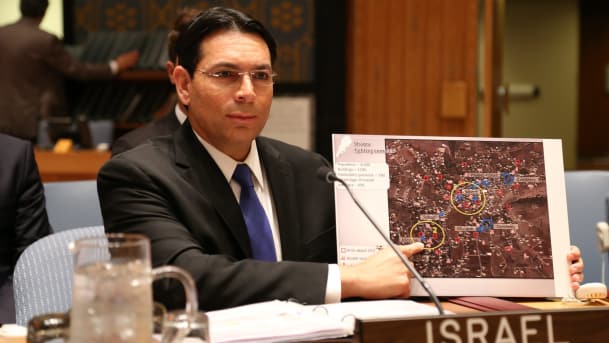 Israeli Ambassador to UN, Danny Danon, urged the Security Council to stop Iran's missile threat, Israel National News reported on Sunday.
"This act of aggression was committed in clear violation of Security Council Resolution 2231 (2015), passing the Annex B threshold that prohibits Iran from engaging in ballistic missile activity," Danon stated.
The remarks came a week after Iran's launch of a missile Satellite Launch Vehicle, called Simorgh.
"Iran is a rogue state violating international law. It blatantly defies the calls of the international community, and by doing so, cynically threatens the stability of our region, Europe and beyond," Danon added.
Iran has been launching missiles towards neighboring countries such as Iraq and Syria and toward outer space, making US, Israel and neighboring countries concerned.   
"I call on the Security Council to join the nations and unions of states that have already taken measures to curb the threat of Iranian missiles, especially those capable of carrying nuclear weapon," he concluded.