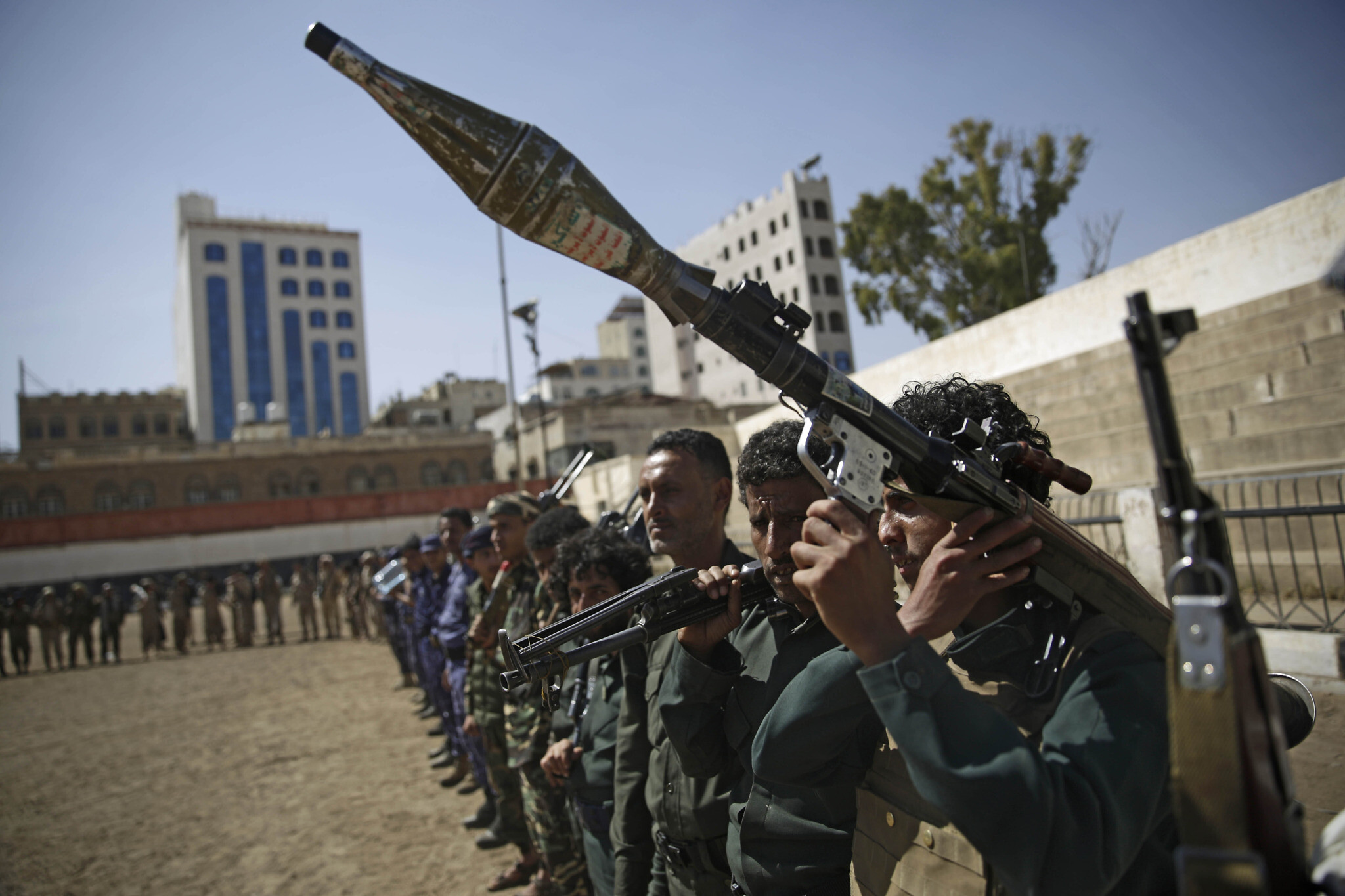 Houthi rebel fighters display their weapons during a gathering aimed at mobilizing more fighters for the Iranian-backed Houthi movement, in Sanaa, Yemen, Thursday, Feb. 20, 2020. (AP/Hani Mohammed)
Security forces in the Al Mahrah province of Yemen have detained a top Houthi leader returning from Iran through Oman, local security authorities said on Saturday.
Hassan Ali Al Emad was arrested by border security forces two weeks ago while attempting to enter Yemen through the Shehn land port, disguised as a traveler arriving from Oman, security officials have revealed.
Al Emad is a prominent founding leader of the Houthi movement, an armed Islamist rebel group backed by the Islamic Republic of Iran.
He spent two decades in Iran, and owns a house in Tehran. He is married to an Iranian, Arab media said.
In the 1990s, Al Emad was given a scholarship by Iran and sent to Qom to be educated as a Shia Muslim cleric.
After completing his seminary education, Al Emad engaged in spreading sectarianism in Yemen and recruiting other Houthis as part of the Islamic Republic's religious project, according to an article by Al Arabiya. He runs a group of organizations aimed at bolstering Iranian influence in Yemen.
Al Emad and his father General Ali Yahya Al Emad— also a prominent Houthi leader and founder—helped establish a fundraising network in Iran to support the Houthi movement.
Al Emad is also known for his role as a key member and a financier of the Houthi cell that plotted to assassinate Yemen's former president Ali Abdullah Saleh in 2006.
In 2020, Ali Al Emad was honored by Hossein Salami, the commander of Islamic Revolutionary Guard Corps (IRGC) in Iran, in a "Mujahideen in Exile" conference held in recognition of foreign individuals and groups affiliated with the IRGC.