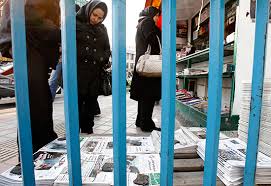 Reporters Without Borders (RSF) condemned Islamic Republic of Iran for the arrest of two local journalists who published a cartoon making fun of clerics' traditional remedies for Coronavirus.
Iran is also highly criticized for its systematic censor of covering the pandemic's outbreak in the country. 
"Masoud Heydari, the news director of the Iranian Labour News Agency (ILNA), and Hamid Haghjoo, the manager of its Telegram channel, were arrested on 24 April for allegedly insulting 'Islam's sacred principles' and religious leaders in a cartoon that was posted on ILNA's Telegram channel for a few minutes on the evening 23 April and was then quickly deleted," the report said.
The cartoon was mocking Iranian clerics who recently suggested some "Islamic medicine" to treat Coronavirus. These calls were highly criticized on social media and Iranians were making fun of the recommendations.
"The cartoon showed a patient between two traditional healers. One wants to administer violet oil to him rectally. The other wants him to drink camel's urine. In a photo on the wall in the centre, there is a mullah dressed as a nurse who resembles Supreme Leader Ali Khamenei. He is signaling to the patient to say nothing," the report explained.
 According to RSF, Heydari and Haghjoo were arrested on a charge of "insulting the Islamic Republic's Supreme Leader." Heydari was later released on bail but Haghjoo is still being held.