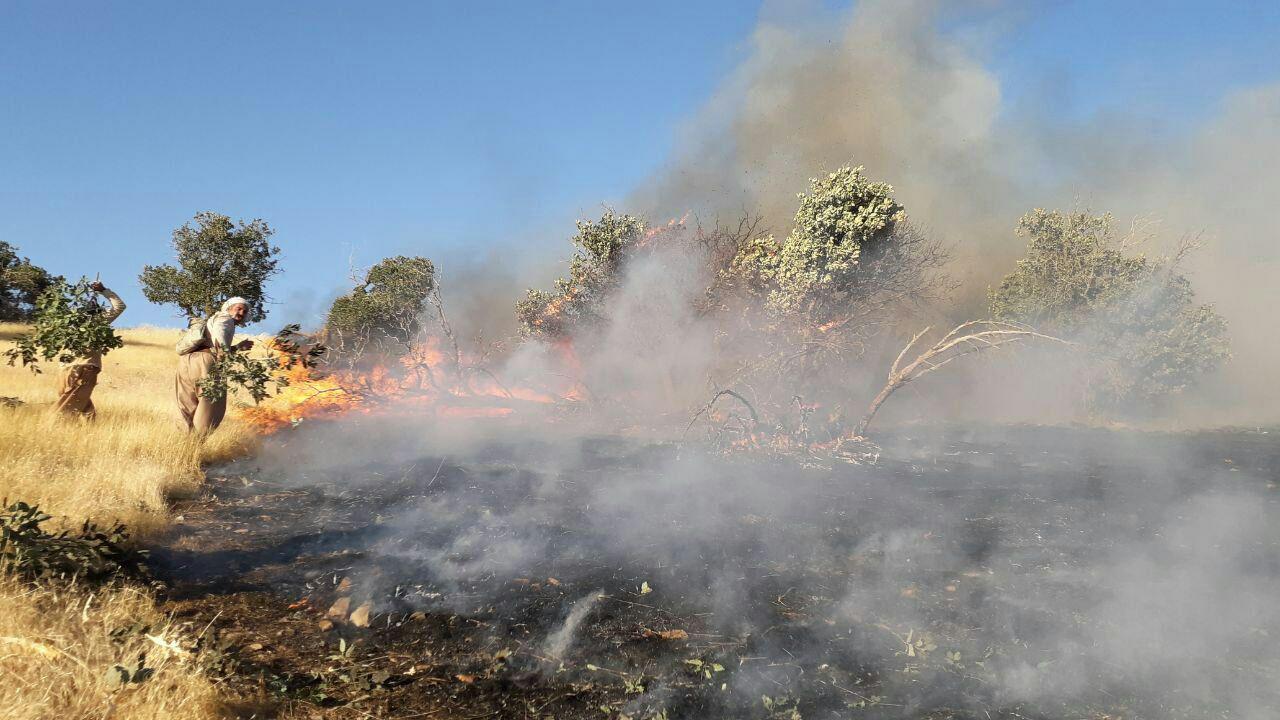 A massive wildfire continues to rage through Zagros Mountains in Ilam Province, western Iran for about nine days now. It has burning down the flora of the region including oaks and turpentine trees and destroyed wildlife in Iranian Kurdistan. Yet government remained silent and showed zero interest in preventing environmental destructions occurring in Kurdistan.
The fire has burned tens of thousands of acres across the region, and took the life of hundreds of animals and many endangered species.
According to primary estimations, more than 15000 oaks, 5000 turpentine trees, 1000 maples, and 1000 hawthorns were burned down to the ashes. These mountains are known to be the habitat of rare snake species called spider-tailed horned viper.
Since the fire broke out, the Organization of Natural Resources has announced several times that they had controlled the fire. But the fact that the fire is still torching the region, made locals losing their trust and hope in government.
They are calling the Islamic government and its agencies "irresponsible," and "dishonest."
Forest fires in Iran is not limited to the Kurdish regions and it is happening in other regions, too.
According to Gholamhossein Hekmatian, the head of Natural Resources of Kohgiluyeh and Boyer-Ahmad Province, "500 acres of the province's forests have been destroyed due to wildfire in the last four months."
Vahid Mohammedi, the head of Crisis Management Organization of the province asserted, "There is no proper equipment for taking care of such cases and government doesn't care much about wildlife or the environment of these regions."
The destruction of forests and grassland, either by fire or drought, takes a heavy toll on Iran's already collapsing economy.
Zagros forests' wildfires have caused massive economic damages for the locals as well as the government.
According to Ghasem Sabzali, Protection Commander of Forests, Range and Watershed Management Organization, the destruction of one acre of forest costs government $ 4000, and the destruction of one acre of grassland costs them nearly $1300.