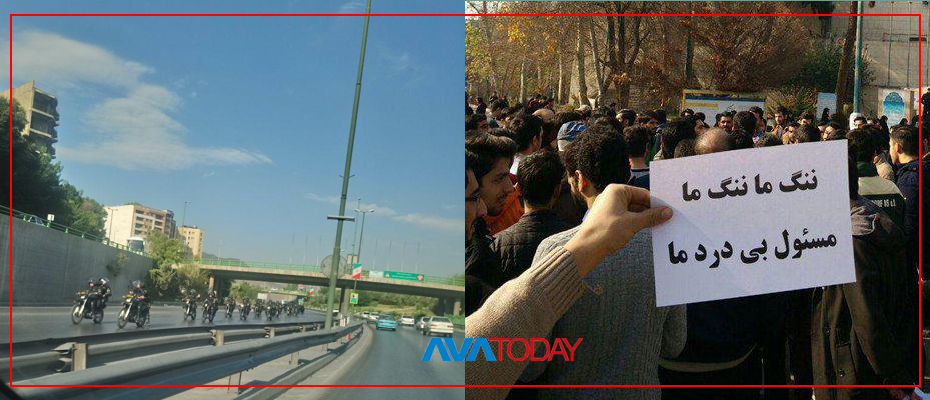 "Anyone who takes part in the protest wants the (Iranian) Regime down,"
Despite tough restriction from security forces, large-scale demonstrators continued in the Iranian streets on Saturday night for the fourth day protesting financial crisis, strict Islamic rules and shortage of water and electricity.
"Anyone who takes part in the protest wants the (Iranian) Regime down," Elahe, a protester from Tehran told Avatoday. "Even those who wear Hijab and work for government want the end of this regime."
"We are fed up with corruption, "said Korush, another protester from Tehran.
 The demonstrations which mostly held in Karaj, Tehran, Qom, Esfahan and Shiraz on Saturday started against economic difficulties om Wednesday, but the slogans changed over days to anti-government slogans such as "Death to the Islamic regime."
In Qom which is considered a religiously holy city by the Iranian Shia government, protesters chanted "death to dictator" referring to Khamenei, the leader of Iran.
 "sorry Khamenei, but you have to say good bye," chanted the religious citizens of Qom.
According to some eyewitnesses, Iranian anti-riot police have hired Afghan and Lebanese police to end the protest.
"The city is full of Arabs wearing anti-riot police costumes," a protester from Tabriz, who talked to Avatoday on condition of anonymity said.
"We knew they are not from Iran, because they had no mercy, but we did not know where they were from until they spoke Arabic." A protester from Shiraz also claimed that he has seen Afghanis among the policemen.   
A video obtained by Avatoday shows a protester in Shahinshar wounded by plastic bullet. 
Iran is facing severe financial crisis as U.S. sanctions approaches, the country's currency, Rial has lost almost 80 percent of its value since last year. It reached record low in late July at 112,000.
Donald Trump, President of the United States, said in a tweet that "Iran, and it's economy, is going very bad, and fast! I will meet, or not meet, it doesn't matter - it is up to them!"
Trump's request of bilateral meeting between the two countries were refused by some Iranian authorities.   
Ali Rabiei, Minister of Cooperatives, Labour and Social Welfare said on Saturday that U.S. sanctions will bring down one million jobs in Iran. 
The Islamic regime is facing a historic crisis since they took power in 1979.  The government is trying to stop the public which have been protesting for months against the regime's political, economic and social failures.