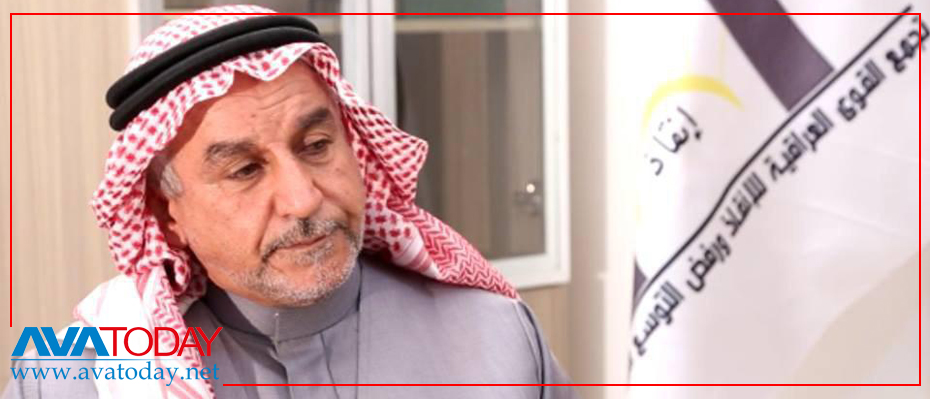 The increasing role of the Islamic Republic of Iran in neighboring Iraq, especially since the US departure, has been seen by most Iraqis as destructive, negative and interventionist. Sunni Arabs are especially hoping for a peaceful and stable Iraq without Tehran dictating its power. 
In an interview with Avatoday Dr. Abdulrazaq al-Shammari, leader of the Arab Gathering to Save Iraq from Iran Intervention, argues that the Iranian forces are now controlling the country's political and economic decisions.
The Sunni leader believes that there is only one way to avoid Iranian intervention which is to unify the Iraqi nation followed by US support for their agenda.
Avatoday: The United States has urged Iraqi Prime Minister Adel Abdul-Mahdi to expel Iranian forces from the country. How large are these militias?
Dr. Abdulrazaq al-Shammari: Since 2006 and the explosion of the Samerah River, Iraq became Iran's own garden. Our country is both militarily and politically speaking under the control of Iran. Iran's commander Qasem Soleimani, Mohamad Javad Zarif (Iran's Foreign Minister), and Iran's envoy to Baghdad, Iraj Masjedi are representing their country's interest in Iraq. Everyone remembers Iran's military presence in Amerli, Falujah, Anbar, Mousl and Dialeh provinces during the war against ISIS. We are welcoming US policy against Iran's interventionism. We also support the US' designation of Iranian Revolutionary Guards as a "foreign terrorist organization."
Avatoday: Previous Iraqi governments, especially Haidar al-Abadi's administration had been denying the presence of the Iranian Revolutionary Guard Corps (IRGC) in Iraq. What would you say on that?
Dr. Abdulrazaq al-shammari: I have been asked about this matter frequently. I would like to repeat that they had been denying the role of these forces in battle fields. They said the Iranian forces are playing advisory roles and did not participate in the war. But I would like to ask why were "advisors," including Qasem Soleimani and his militias on the ground leading the war? A military advisor must stay in the operation room. So, there is undeniable evidence of the existence of Iranian soldiers fighting in Iraq.
Avatoday: The United States announced that 20 percent of the Iraqi economy is now controlled by the IRGC. How accurate is this information?
Dr. Abdulrazaq al-Shammari: They only announced 20 percent, I would say that Iraq's economy and politics are completely under Iranian control. It's the Iranian militias and the Revolutionary Guards who are making decisions for Iraqis. The economy of most Iraqi provinces is controlled by Iranian militias who are staying in the region.
Avatoday: What would happen to Hashd Al-Shaabi (a major Iranian proxy in Iraq) and their military activities after the US designation of the IRGC as a "foreign terrorist organization?" Do you think it will stop the militia groups' increasing political and military role in Iraq?
Dr. Abdulrazaq al-Shammari: I think the IRGC is the head of a triangle. All other militia groups are linked to the top, which is the Revolutionary Guards. So, I think that if the US practically implements the act, it would be very influential to control others as well.
Avatoday: In the past few months, there was a demand for the secession of Sunni regions from Iraq aimed at avoiding Iran's intervention. Do you still have such a demand?
Dr. Abdulrazaq al-Shammari: We were the first to suggest such a project. The region is not only for Sunnis but let's say a Western region, which is separate from tribalism and Iran's increasing role. I support this project because it is the only way to confront Iran and its expansionist approach to Iraq. But this is not our only demand, we want a fair share of participation in the Iraqi government. The central government is currently discriminative towards us.
Avatoday: The head of the Iraqi parliament has recently talked about Iranian authorities including Qasem Soleimani paying Sunni members to join alliances close to the Islamic Republic of Iran. If Iran has such a huge impact in Iraq, how could the regime be forced to leave Iraq?
Dr. Abdulrazaq al-Shammari: There are two major ways to defeat Iran. The first one is uniting Iraqis as a nation. The second way is the presence of Americans. I would like to repeat it once again that the growing role of Iran is the outcome of the US departure from Iraq in 2011. The United States is therefore responsible to drive Iranian militias out of the country.
Avatoday: It seems that Americans don't have a strong base in Iraq to deal with Iran or expel their forces. How successful would the US be in this task?
Dr. Abdulrazaq al-Shammari:  First of all, Americans have a strong base and major support from the north and west provinces of Iraq. The task is achievable if they are serious in saving Iraq from Iran.
Moreover, if America didn't have a strong base in Iraq, how could they topple the previous regime? I would say this once again that people in the north and west of Iraq are ready to support Americans in any serious military operation against Iran and in support of a free Iraq.
Avatoday: Is it safe to say that 2019 will be the end of Iranian expansionism in Iraq?
Dr. Abdulrazaq al-Shammari: I hope so. But I should say that this is only the beginning and there might not be enough time for this process. In 2004, I had warned that if Iran takes control of Iraq, it would stay to strengthen its roots. It is not easy to expel Iranian forces because their type of intervention is different than that of Americans. Americans intervene for economic interests and once these interests are fulfilled, they will leave. Iran's intervention is ideological. They came to stay.
Avatoday: There are rumors about an American war with the help of Gulf allies against Iran. What do you think of that?
Dr. Abdulrazaq al-Shammari: I believe any future war between Iran and America, if it occurs, would not be a classic war but rather a technological war.
Avatoday: Is the United States seeking a regime change in Iran?
Dr. Abdulrazaq al-Shammari: Maybe, but the aim for the time being is to limit Iran's expansion and change their behavior. Americans are dealing with every country based on their own interests and they will do the same with Iran. I think until now American interests are not in changing the regime but rather to put pressure on them and limit their power. We don't mind if a regime change happens in Iran or not, it is an Iranian agenda not ours. What is important for us is to have a free Iraq.