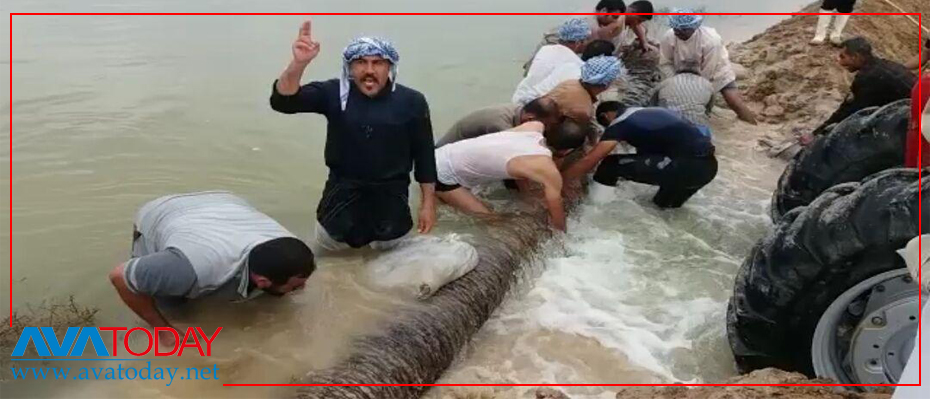 Arabs from Khuzestan building a defense wall to prevent flooding on their properties
The Iranian Intelligence agency known as Etelaat has reportedly arrested 25 Arab activists on Sunday who were building a wall to prevent water from entering their farms and villages in flood-stricken areas in Khuzestan, southwest of the country.
Local sources told Avatoday that Etelaat transferred the activists to an unknown location.
The farmers in Khuzestan's area of Susangerd have been building the defense walls for days. Tensions increased when the Iranian Revolutionary Guard Corps (IRGC) attacked the farmers aiming to break the defense walls in order to save oil fields instead.
"Etelaat arrested the [Arab] activists without clarifying any charges," one source said.
Etellat arrested five Arab protesters on Saturday for attending demonstrations against the government's lack of assistance.
Massive floods struck up to 13 provinces in Iran in the past month and has killed at least 77 people.
Some 2,000 villages and towns have been flooded and hundreds of thousands of hectares of farms inundated.
The Iranian government has been highly criticized for its inability to manage the crisis.  Several aid campaigns were formed by citizens across the country to assist people affected by the crisis.
According to videos received by Avatoday, the IRGC, which was designated a terrorist group by US on Monday, is preventing campaigners who are trying to deliver aid to flooded areas.
Local sources revealed that the prevention is "because the IRGC wants to show itself as the only group helping people."