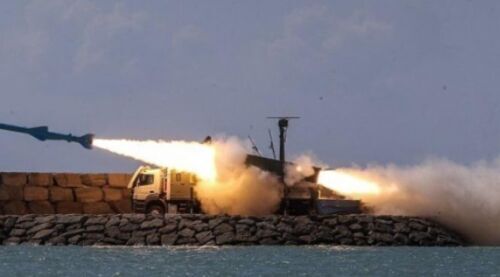 A large-scale military drill by Iran this week was aimed at sending a "serious warning" to Israel, top Iranian military officials said on Friday.
The five-day military exercise called "Great Prophet 17," held in the southern Iranian provinces of Hormozgan, Bushehr, and Khuzestan.
The war games came amid ongoing nuclear talks in Vienna, as well as in the wake of increasing tensions between Iran and Israel.
Islamic Revolutionary Guard Corps (IRGC) chief Gen. Hossein Salami said it was intended to send a "very clear message" and a "serious, real warning" to Tel Aviv.
"We will cut off their hands if they make a wrong move," he said, in a strongly-worded warning. "The difference between actual operations and military exercises is just a change in the angles of launching missiles."
Maj. Gen. Mohammad Bagheri, chief of staff of Iran's armed forces also commenting on the launch of 16 ballistic missiles on the last day of the drill, said it was done in "response" to what he called Israel's "empty threats."
The five-day drill involved ground, navy, and air force personnel of the IRGC.