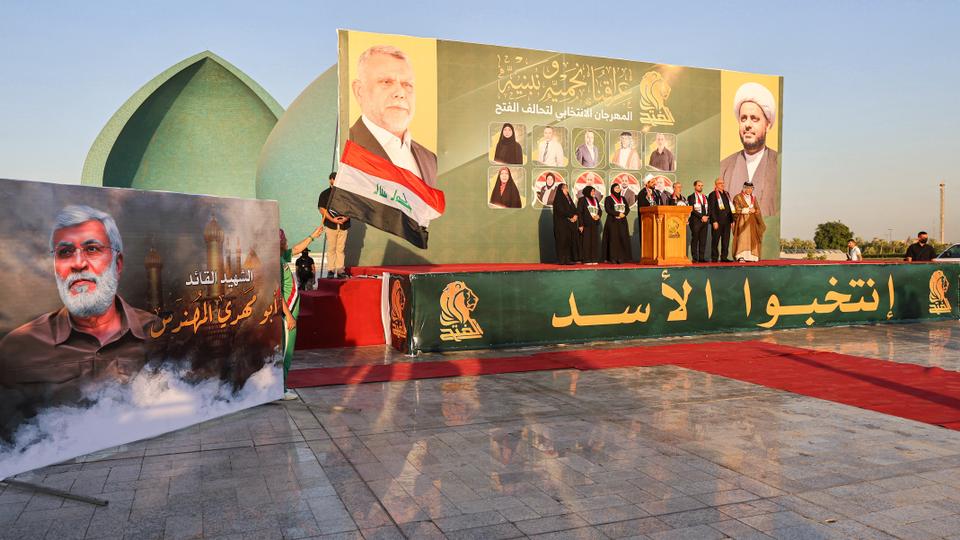 A candidate speaks during an election rally in Baghdad, on October 7, 2021, while displayed on a banner near him is a portrait of the late Hashd al Shaabi commander Abu Mahdi al Muhandis. (AFP)
Two days after Iraq's legislative election, pro-Iranian Shiite parties and militias denounced early results on Tuesday, France 24 reported.
The Shiite groups, who are in close affiliation with the Islamic Republic of Iran, called the election as "manipulation" and a "scam".
According to preliminary results, the biggest winner appeared to be the movement of Muqtada al-Sadr, which increased its share to 73 of the assembly's 329 seats.
Losses were recorded by pro-Iranian parties with links to the armed groups known as Hashd al-Shaabi, or Popular Mobilisation Forces (PMF).
The Fateh (Conquest) Alliance, previously the second largest bloc in parliament, suffered a sharp decline from 48 to about a dozen seats, according to observers and results compiled by AFP.
"We will appeal against the results and we reject them," said a joint statement by several parties, including the Fateh Alliance, on Tuesday.
"We will take all available measures to prevent the manipulation of votes," added the statement also signed by the party of former Prime Minister Haider al-Abadi, who served from 2014 to 2018.
One of the most powerful pro-Iranian figures in Iraq, Hadi al-Amiri, said the results were "fabricated".
The Hezbollah Brigades, one of Hashd's most powerful factions, has also rejected the election as "the biggest scam and rip-off the Iraqi people have been subjected to in modern history".
"The Hashd al-Shaabi brothers are the main targets," its spokesman Abu Ali al-Askari said.