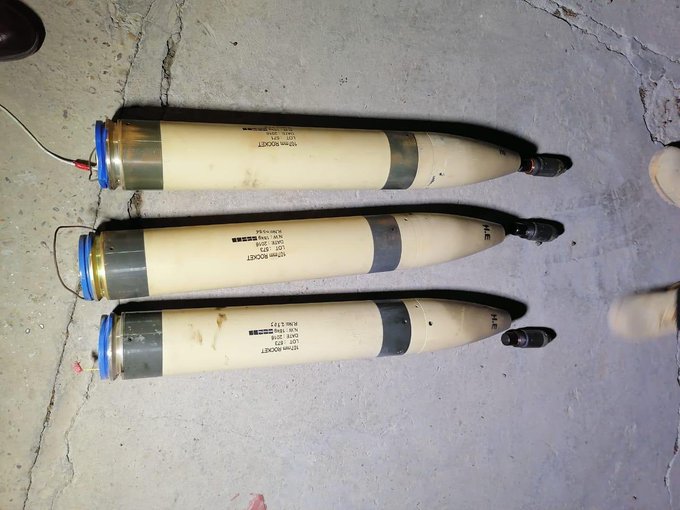 Photo of three rockets that U.S. president Donald Trump tweeted on Wednesday saying that they were made in Iran.
Top U.S officials on Wednesday agreed on several options to present to President Donald Trump aimed at protecting U.S. military or diplomat personnel in Iraq from further attacks, Reuters reported. 
According to the report, Defense Secretary Chris Miller, Secretary of State Mike Pompeo and national security adviser Robert O'Brien attended the meeting at the White House. 
"Each one is designed to be non-escalatory and to deter further attack," the official told Reuters. 
The meeting  was held after several rockets targeted the U.S. Embassy in Baghdad's Green Zone.
The U.S. President Donald Trump announce on Wednesday night that the rockets "came from Iran" and he would held Tehran responsible for any further attacks on US interests in Iraq.
"Our embassy in Baghdad got hit Sunday by several rockets. Three rockets failed to launch. Guess where they were from: IRAN. Now we hear chatter of additional attacks against Americans in Iraq," Trump tweeted, "Some friendly health advice to Iran: If one American is killed, I will hold Iran responsible. Think it over."
Baghdad's Green Zone where foreign embassies are located have been targeted dozens of times in the last year with Katyusha rockets.
Washington blames Iraqi Shiite militia backed by Islamic Republic to be behind the attacks. 
Iraqi Prime Minister, Mustafa Al-Kadhimi, called the Sunday attack "cowardly and a terrorist move."