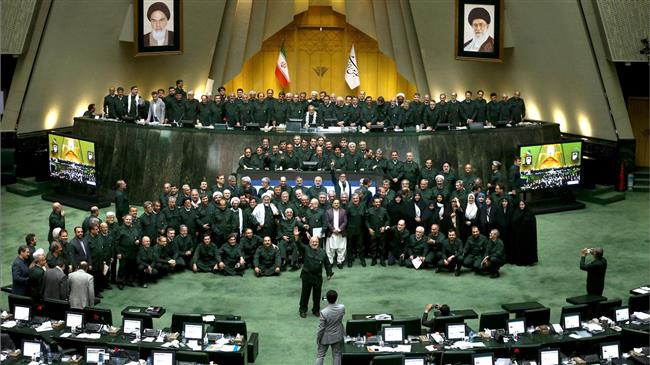 Iranian MPs wearing IRGC uniform on April 9, 2019 after US branded the force as a foreign terrorist organization
War of words between Iranian hardliners close to the Islamic Republic Supreme Leader, Ali Khamenei, and reformist backed by former president Mohammad Khatami has risen ahead of February 21 parliament election.
The main clash begun after The Guardian Council, dominated by hardliners which oversees the election, disqualified thousands of candidates, mostly reformists.
Iranian President on Monday described the disqualifications as a threat to Islamic republic's "democracy and national sovereignty."
"The greatest danger for democracy and national sovereignty is the day when elections become a formality," Rouhani said in a meeting with provincial governors which was boycotted by state media and was not broadcasted. "May God never bring this day," he added.
"Let us reassure the people and tell them our system is not a single-party system," he added.
Conservatives, on the other hand, accuse "disqualified reformists" of corruption.
Abbas-Ali Kadkhodaei, spokesperson of the Guardian Council, announced last week that 92 of current members of parliament have been disqualified over corruption.
Kadkhodaei highlighted "corruption, embezzlement, lobbying, jobbery, abusing the post to buy large areas of lands," as the reason for disqualifying current MPs adding that those who were rejected can appeal to the decision.
According to the Guardian Council some 14,500 candidate have registered for the election out of which 9,500 have been rejected.
Iranian oppositions believe the main fear of reformists is that Revolutionary Guard Corps (IRGCs) is trying to take control over the parliament and later the government.
"Despite the previous elections, when the war of words were for heating up and attracting people to the election, reformists are now sure that they have no place in this election, because the IRGCs took control over the election and the process" Farhad Shaabani, a member of political committee of Kurdish-Iranian communist party told Avatoday.
Iran has witnessed several nationwide anti-regime protests in the last two years over corruption and incompetence of the regime.
Reuters revealed on December 23, 2019 that Islamic Republic Supreme Leader Ali Khamenei ordered his top security officials to end the protests in November, which resulted in 1500 deaths.