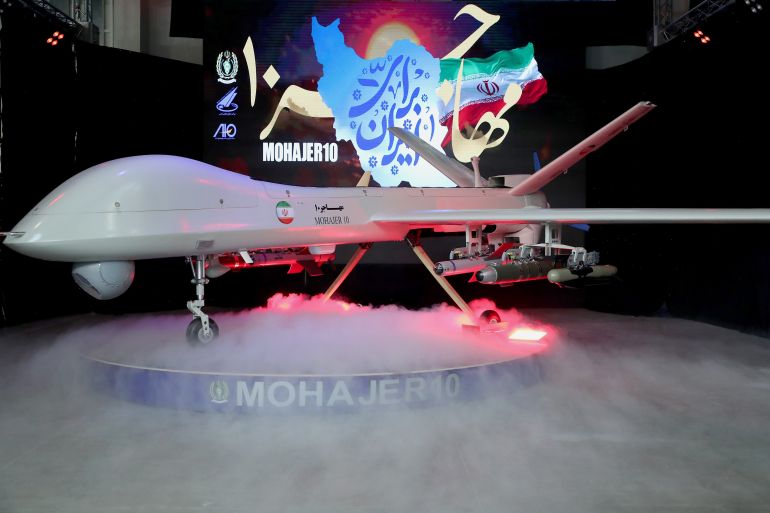 Iran has unveiled a new drone that it says is capable of striking targets in Israel.
The Iranian Ministry of Defence and Armed Forces Logistics unveiled the Mohajer-10 on Tuesday as part of an exhibition and ceremonies marking Defence Industry Day.
President Ebrahim Raisi and senior commanders in the army and the Islamic Revolutionary Guard Corps (IRGC) attended the event.
The unmanned attack aircraft, which resembles the MQ-9 Reaper manufactured by the United States, was also shown in videos taking off from an unidentified airstrip and flying. It is said to be capable of carrying a variety of bombs and anti-radar equipment and of conducting surveillance.
According to state-linked media, the latest version of the Mohajer, which was first developed during the eight-year war with Iraq in the 1980s, can carry a 300kg (660lb) warhead, fly at a maximum speed of 210 kilometres per hour (130 miles per hour) and hold 450 litres (120 gallons) of fuel.
The media reports said the drone can travel non-stop at an altitude of 7,000 metres (4,350ft) for up to 2,000km (1,242 miles), meaning that it could reach Israel.
The unveiling comes one day after Israel launched an air strike in Syria targeting Iranian interests.